Our purpose
"We help companies, leadership teams, entrepreneurs and business leaders to create more value. We are convinced that the successful companies of 2025-2030 are the ones who are led by leaders that know themselves, open to rethink their current business models, execute strategy, embrace digitization, develop their teams and that work sustainably. We help them navigate their journey, so they create more value, work better together as teams and become more effective as business leaders."
The rising of purpose driven companies, webinar by Paul Donkers, February 2020
Our webinars are exclusive for our network. If you want to get access, please contact us via This email address is being protected from spambots. You need JavaScript enabled to view it.


---
Making a bigger contribution is not feel good capitalism. It's simply the right thing to do
Through our purpose, we also make a bigger contribution to society. This approach is more effective for our sustained succes and it's our license to operate with our clients in the long term. 
For this, we need to run an economically healthy company. Profit is the oxygen we need. Economic success helps us to continue to invest and to move the firm forward. At the same time, we have a horizon of 5-10 years. Not all our investments have to pay off immediately. So, when we can, we decrease our environmental impact and we make a bigger contribution to society.
What does it mean for us in the way we work on a day-to-day basis?
When we can, we invest in sustainable solutions such as solar, green roofs, etc.. Also when our investments have a longer horizon for return on investment.
We commit to support a small selection of charity organizations with our experience. We choose to be active in charity today. In our current positions we are able to add more value. This works in two directions. Our private clients benefit from our charity experience and connections. Our charity relations benefit from our network and the efficiency thinking in the private sector. 
Case: International Committee of the Red Cross
Since 2013 our partner Paul is involved as global executive coach in the global leadership program of the International Committee of the Red Cross. As of 2020, this also includes some work for master students in Humanitarian Leadership from the University of Lucern in Switserland. Every month, we work with worldwide ICRC leaders.

---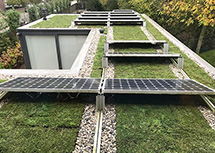 Green Solar Roof at our Breda office in The Netherlands. Achieving 15% increased solar production, better isolation and improved water storage.