Change management: an inappropriate magic word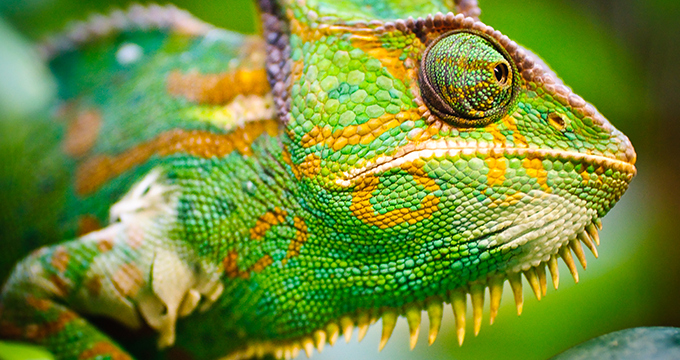 Change. It's all about change. Or to put it in pompous words: change management. Nowadays, those who don't participate in the change process, seem lost.
Change management
is definitely the magic word of the moment. And when you already have many years of professional experience, like me, you might ask yourself from time to time: 'What's the point of it, anyway?'
Personally, I also truly believe in change. Of course. However, I opt for its intelligent variant, which doesn't always appear to be obvious. I notice it every day in practice. The Internet has entirely opened the world. Everything goes faster, the market has become much larger and technological progress is super-fast. Micro-electronics, informatics, ultramodern telecommunication, biogenetics, social media...
Anticipating
Everything constantly changes. What is happening around us? Some companies can follow, others can't. Even a well-sounding name and an excellent reputation don't offer any guarantee anymore. Just look at how Kodak completely misjudged the evolution of digital photography. Nokia has also been beaten by the popularity of the
touch screen
. And even before the compact disc replaced the cassettes forever, downloading music had become the most natural thing in the world.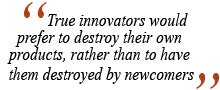 Actually, it's all about anticipation. Dealing in an intelligent way with change means anticipating, not reacting. Unfortunately, many companies prefer to react, however. Often, their reaction comes late, which usually leads to a loss in turnover and market share. And what will be the result? Expensive consultants and radical restructurings. Moreover, shareholders might turn their back on the company.
Therefore, I plead for change in an intelligent way. 'Anticipating' instead of 'reacting', even if it might be at the own products' expense, initially. True
innovators
would prefer to destroy their own products, rather than to have them destroyed by newcomers, since new players are always on the look-out. They smell the opportunity and anticipate super-fast because they don't stick to the heritage from the past. They make sure the breakthrough happens fast and beat the old guard.
Those who anticipate in time, will manage to reinforce their market position. Steve Jobs was a true master in this field. Since predecessors can easily attract capital, the investments will run smoothly.
Attitude
Do you know what is especially surprising? The clue is not 'being able' to anticipate, but 'wanting' to anticipate. In other words: it's all about your behavior and attitude. Your corporate culture is decisive! What's your attitude towards change, actually?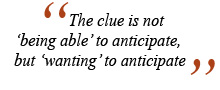 The problem is that many companies don't anticipate in time the upheaval radical innovations can lead to. Other companies might see the change coming, but are skeptical towards it, so that they don't react appropriately. Too often, they are sticking to the past and have a low opinion of new pioneering developments. And last but not least: they don't pay attention to the consumer's changing lifestyle anymore! And this is exactly one of the most important parameters for managing change...
Conclusion
Change management doesn't mean expensive consultants. Change management stands for developing a dynamic and open corporate culture (outward-looking);
Change management doesn't mean restructurings. Change management stands for always looking forward and innovating (through anticipation).
Companies proceeding this way on a daily basis, don't even use the term 'change management'. It is so obvious that it's just ingrained in their culture!
Have a nice weekend,
Herman
Based on our own experiences, I've illustrated the most common cultural differences in the table below.
| | |
| --- | --- |
| Reacting | Anticipating |
| Management: especially on routine, top-down approach with many nodders | Management: always looking for innovation, open culture with lots of interaction, cross-functional |
| Talent management: especially campus recruitment and internal promotion with a slow flow | Talent management: recruitment at all levels with a sound in- and outflow, fast flow |
| Style: conservative, cautious | Style: prepared to take some risks |
|   |   |
| Analysis and extrapolation | Visionary |
| Innovation through R&D | Creative at all levels and in all positions |
| Inward-looking, navel-gazing | Outward-looking, scouting |
| Benchmark, internally and within the own sector | Benchmark, externally and outside the own sector |
| Standing far away from the customer, sales are a 'cost' | Standing close to the customer, sales are an 'investment' |
| Total control | Joint ventures, spin-offs... |
| Often arrogant and authoritarian | Passionate, modest and eager to learn |
| Often skeptical | Curious |
| Spend lots of time inside their company! | Spend lots of time outside their company! |
Reading tip: "The Innovator's Dilemma: The Revolutionary Book That Will Change the Way You Do Business" (Clayton M. Christensen)