Customer feedback is invaluable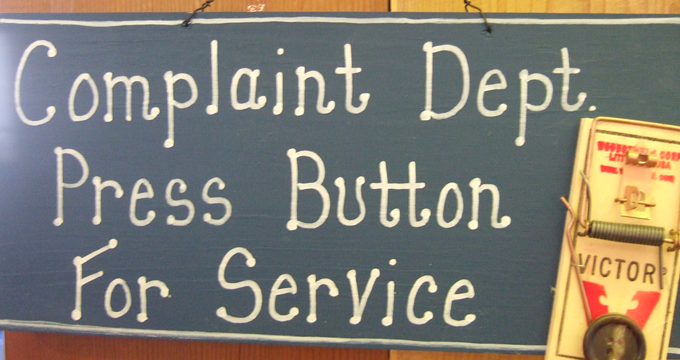 Customer complaints are often dealt with by call centers. Usually, they are taken care of according to a fixed tree structure. Who doesn't know the annoying 'press-one-two-three' instructions? But what is actually happening with that flow of irritation?
During one of my company visits, I got into conversation with a lady working in such a call center. She had to face, listen to and deal with complaints…; the tone of such calls can vary. Anyway, someone has to stand in the line of fire and she did it brilliantly. However, she couldn't tell me what is exactly happening with customer complaints as soon as they are introduced 'into the system'.
A classic pattern. Indeed, the complaints are neatly being listed in reports with figures, data and all the trimmings. And yes, those reports are dropped on the boss's desk; so, with bar charts and even a nice PowerPoint presentation if necessary.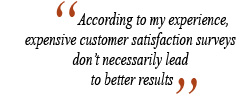 As far as I'm concerned, this is definitely not a good approach! And this has been confirmed by the rest of the figures. Several years in a row, the company has been losing market shares and this has also clearly been reflected in its turnover.
So, together with the management team, we have been analyzing the complaints of the last few months. And, as we had expected, a lot went wrong. Late orders, wrong deliveries, damaged packing… Even at information level. Customer questions remained unanswered: no information, wrong information, incomplete information, late information...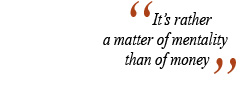 Although you could almost feel the irritation, apparently nobody cared about all those unsatisfied customers, because the order to deal with the complaints had been 'delegated' to the quality control service. It seemed as if it was sufficient to appoint someone who would list a few data! Clearly not! Attracting customers takes lots of time and efforts, but losing them goes super-fast.
Yet, it doesn't have to be so difficult at all. And it doesn't have to be so expensive. It's rather a matter of mentality than of money! Would you like to do a little test? Why don't you take the time to briefly evaluate your own company?
Do you have one central contact point for all customer questions? And for all written and oral (by phone) customer complaints?
Do your customers know that way of proceeding? Can they easily reach you?
Have your employees in the call center well been selected and qualified? Have they enjoyed some additional communication trainings?
Do you give these contact persons enough freedom and budget to deal with complaints in real time as much and quickly as possible?
Are the main complaints immediately transferred to the responsible manager?
Does your company apply a deadline for solving problems? Within one hour? The same day? Is there differentiation according to the problem?
Is everything – the problems and related solutions - appropriately being listed? Can you notice some evolution?
Do you call your customers in order to check whether they are 'fully' satisfied after the delivery of a product or service? Does this happen systematically or at random?
Are customer complaints, customer questions as well as the related answers and solutions regularly being discussed at management level? Does this happen weekly? Monthly? Do those discussions lead towards structural measures?
Last but not least! As stated above, it is especially a matter of mentality – the company culture, you know. Do all employees tend to get their teeth into a problem? My advice: don't give up on a problem until you have solved it yourself or you know for sure that someone else will do it within a reasonable time! And don't forget to inform the customer about its evolution. This approach will allow both parties to avoid lots of frustration.
Conclusion: according to my experience, expensive customer satisfaction surveys don't necessarily lead to better results. Personally, I opt for a sound customer-oriented company culture!
Have a nice weekend,
Herman