How to manage people?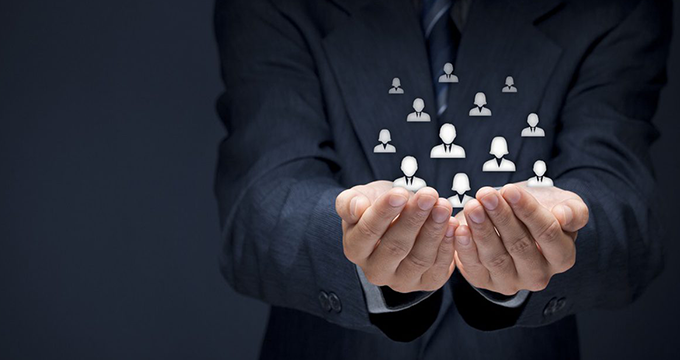 There are sometimes things you just need to learn 'by trial-and-error'. Managing people, for instance: there's no standard way for doing it. Nothing wrong with trial-and-error, but that approach will take some time; time that you usually won't have.
I'll give you an example. Some years ago, I started working as a crisis manager within a company. The company top gave me a clear message: make sure to achieve a quick turnaround. At that moment, I suddenly fully realized that trial-and-error wasn't sufficient anymore. Although I had to deal with a team of specialists – some of them even were of international level –, the results didn't come. What to do in such a situation?
After a few weeks of exhaustive discussions, I listed the following bottlenecks:
there was some growth but it was limited and came in fits and starts;
there was innovation but, apparently, our competitors were always a little faster than us;
although our production capacity was large, 'overstock' and 'out of stock' were alternating;
our customer base was strong but the customer complaints were increasing.
Conclusion: "What was going wrong?"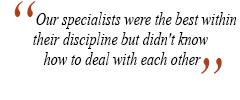 That question was the only item I put on the agenda when determining a date for a two-day team workshop.
I asked the group to make a SWOT analysis. And it led to a surprising result: our specialists were the best within their discipline but didn't know how to deal with each other. Moreover, they were all using their own terminology and considering problems only from their own viewpoint. So, it was rather a matter of not being able than a matter of not wanting.
As a result, everyone was working in 'silos': next to each other instead of with each other. Of course, it caused a lot of frustration.
I immediately changed course. On a flipchart, I wrote the following sentence: "How can you perform your work better WITH other people's help?" So, it wasn't about what you can improve yourself, but about what you can improve together. Not an easy exercise! However, the trend was set and the real 'bottlenecks' became visible during the group discussions.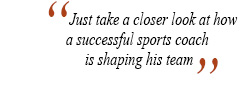 An example: every Friday morning, the sales managers communicated their sales forecasts. Subsequently, the people responsible for the planning adapted their forecasts based on their experience (thus only oriented towards the past). Moreover, that information was communicated to the production units without any further discussion. It immediately became obvious why 'overstock' and 'out-of-stock' were constantly alternating.
In fact, the solution was simple: from then onwards, the planning was being elaborated together with the sales and marketing managers, under the direction of the 'chief planning' and with an eye on the future: planning not only by looking backward, but also by looking forward. Within two months, the stock management was significantly improved.
Same story for the development of new products. Innovation takes place a lot more quickly when 'research and development' (R&D), production and marketing are cooperating in parallel instead of sequentially.
In other words: it was all about cooperating cross-functionally and at cross-level. In order to institutionalize it within the company, I systematically planned, at the end of each team meeting, some extra time to discuss the 'cooperation'. Week after week, new ideas were coming up, the team was more and more adopting an open attitude and performing better and better.
The lesson I've learned from it, is that only paying attention to the 'what', isn't enough. Without spending enough energy and time to the 'how', you won't succeed. The more intense the cooperation and the teamwork are, the more you'll be able to convert your company's strategy into effective action. Not convinced yet? Just take a closer look at how a successful sports coach is shaping his team.
Have a nice weekend,
Herman