Making a bigger contribution is not feel good capitalism. It's simply the right thing to do
We want to make bigger contribution to our society. For us that's not 
feel good capitalism
. This approach is simply more effective for our sustainable succes and it's our licence to operate in the long term.
Our goal is to run a healthy company and to make a positive difference at the same time.
What does it mean for us on a day-to-day basis?
We work in an environmentally conscious way. We invest in solar energy, green roofs, hybrid and electric cars.
We are committed to support a selection of charity organizations with our experience and some financial support.
We believe it's important for us to be active in charity now. And not when we're (almost) retired. Now is the time when we can be of more value. And this works in two directions. Our regular private clients benefit from our charity experience. Our other relations benefit from our experience and network in the private sector. 
International Committee of the Red Cross
As an example: since 2013 we are involved as global executive coaches in the global leadership program of the International Committee of the Red Cross. Every month, our partner Paul works one-on-one with some of the local leaders from the ICRC from around the world.

---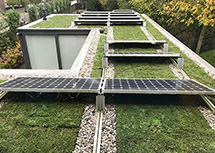 Green Solar Roof at our Breda office in The Netherlands. Achieving 15% increased solar production, better isolation and improved water storage.