Assessmentmarkt vraagt om assessmentexperts
Laat ik beginnen met goed nieuws; ingrijpende besluiten over mensen in organisaties worden steeds meer en beter onderbouwd. Het management besteedt steeds meer tijd en geld om tot zorgvuldige besluiten te komen. Besluiten die niet alleen grote impact hebben op de personen die het betreffen, maar ook op het succes van organisaties. Het verschil tussen een under-, average- of out performer is voor een organisatie zeer groot. Van salesmensen wordt zelfs gezegd dat het verschil in performance tussen een average performer en een out performer factor 5 tot 7 is! Besluiten over mensen hebben dus een zeer grote impact op het succes van de organisaties. Laten we het dan ook zo goed mogelijk doen.
Er wordt veel gebruik gemaakt van de hulp van assessmentbureaus bij bovenstaande besluiten. Niet alleen bij selectievraagstukken, maar ook bij andere belangrijke besluiten over mensen in de employment lifecycle: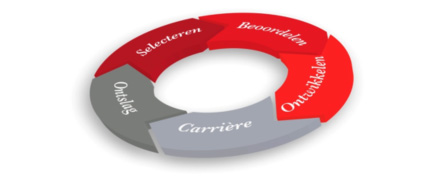 De penetratiegraad van assessment neemt dan ook toe. Je zou verwachten dat het crescendo gaat met de assessmentbureaus, maar het tegendeel is waar. Het economisch klimaat werkt niet mee, waardoor de volumes beperkt blijven. Maar dat is niet het enige.
Jarenlang was de uitvoering van een assessment een black box voor opdrachtgevers. Je stuurde een kandidaat naar een assessmentbureau zonder precies te weten wat daar gebeurde. Het resultaat was een rapport over de kandidaat met al of niet een geschiktheidsadvies. De resultaten werden serieus genomen. Decennia lang een stabiel businessmodel voor vele bureaus. Succes verzekerd, als er maar stromen van kandidaten door het bureau beoordeeld konden worden. Maar deze tijd ligt alweer lang achter ons.
De kennis over assessment en het gebruik van assessmenttools in organisaties zijn toegenomen. Maar de complexiteit in de toepassing en de mogelijkheden ervan ook. Zo hebben organisaties door internet nu ook makkelijker toegang tot online tests en integrale testsystemen. Een groeiende markt van aanbieders die gemiddeld met 20% tot 30% per jaar in omzet stijgen. Er wordt van alles aangeboden; zinvol en minder zinvol, passend en niet passend, goedkoop en (veel te) duur. De marketingmachines draaien op volle toeren. HR-afdelingen worden overspoeld. Voor organisaties is het bijna onmogelijk om uit het enorme aanbod een passende, voor de business zinvolle keuze te maken. Het succesvol implementeren van assessmenttools is dan ook geen sinecure en vraagt (inhoudelijke en procesmatige) expertkennis. Bovendien nemen de mogelijkheden in het vakgebied toe: full assessment, online assessment, capaciteitentest, development centers, persoonlijkheidsonderzoek, 360° feedback, (strategisch) leiderschapsassessment, performance management, competentiemeeting, pre-assessment, vakinhoudelijk assessment, getrapte procedures, oefenassessment, enz. Al met al wordt het er niet makkelijker op en is de kans op het nemen van verkeerde besluiten groot. Er ontstaat een duidelijke behoefte aan assessmentexperts, die organisaties helpen om besluiten over mensen echt goed te nemen. Daar is meer voor nodig dan algemene HR-kennis en is ook heel wat anders dan de black box van het traditioneel assessmentbureau.
Patrick
Patrick van Loon is one of the cofounders of Kenhardt Human Profit. The firm specializes in assessment centers and is the third largest provider of such services in The Netherlands.