"Zie ginds komt de stress..."
Wouter Goris
'Ik voel me niet zo goed … ik ga kapot van de stress', antwoordde Jef me met een benepen stemmetje. Ik keek hem verbaasd aan: een kind van 10 dat de daver op het lijf heeft omdat de Sint in het land is...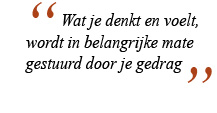 Toegegeven, als kind was ik ook onder de indruk van de man met de mijter. Ik liep dagen van tevoren op de toppen van mijn tenen, maar kinderen die het woord 'stress' in de mond nemen... daar schrik je wel even van als improvement coach.
In mijn praktijk krijg ik continu te maken met de uitwassen van stress. Dagelijks ontmoet ik mensen die het over een andere boeg willen gooien. Stress is overal. Iedereen heeft het druk: het huis, het werk, de kinderen, de vrienden. Alles kan en alles moet... ook voor kinderen!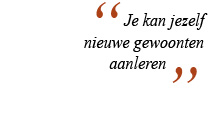 'Moet je kinderen dan best leren omgaan met stress?', hoor ik vaak. Ja! Jong geleerd is oud gedaan: wie op jonge leeftijd leert om consequent zijn spanningsniveau onder controle te houden, zal daar de rest van zijn leven de vruchten van plukken.
Vier vuistregels:
Kern van de zaak is je eigen lichaam: wie zijn lichaamssignalen herkent, is al een flink eind op weg. Alles begint bij een goede ademhaling. Wist je dat buikademhaling een belangrijk wapen is tegen stress? Borstademhaling verloopt oppervlakkig, snel en onregelmatig. Minder zuurstof in het bloed doet ons hart sneller slaan zodat een stressreactie op gang komt. Buikademhaling daarentegen ontspant je lichaam en brengt je geest tot rust. Je ademt diep in en uit. Rustig in en rustig uit … in en uit. Zorg dat je buik altijd uitzet bij het inademen.
Je kan jezelf 'anders leren denken' door anders te reageren op stressimpulsen. Voel je de spanning opborrelen? Blok je stressgedachten af en stuur je gedachten de andere kant op. Doe dat keer op keer en je nieuwe manier van denken zal na verloop van tijd een automatisme worden. Geloof me, je kan jezelf nieuwe gewoonten aanleren: je hersenen geloven wat jij hen vertelt!
Idem dito voor je gedrag. Maak je veel onnodige bewegingen? Ben je een nagelbijter of knabbel je vlotjes je balpen in de vernieling? Loop je op kantoor de benen van onder je lijf omdat je het gevoel hebt dat elke seconde benut moet worden? Stop ermee en je gooit vanzelf een pak stress overboord. Wat je denkt en voelt, wordt in belangrijke mate gestuurd door je gedrag.
Observeer je omgeving. Hoe reageren de mensen om je heen en hoe reageer je zelf? Wie geprikkeld reageert, krijgt in de meeste gevallen een koekje van eigen deeg. Een glimlach en wat humor doen wonderen. Eigenlijk hoef je het helemaal niet zo ver te gaan zoeken.
Wil je leren tennissen? Trainen is de boodschap. Wil je leren koken? Kruip achter dat fornuis. Waarom zou dat bij het overwinnen van stress niet zo zijn? Oefening baart kunst!
Wouter
---
Wouter Goris is one of the founders and owners of Ready 2 Improve. Unlike most coaching companies, which limit themselves to one course about time management or stress management, Ready2improve offers a much broader health-in-action strategy, in which stress and time management are only part of the organizational change process. Ready2improve tackles
the cause
of the problem, instead of offering many remedies to cope with its symptoms.
Ready2improve is specialized in this field and only collaborates with
university-educated
psychologists and fitness experts. The methods used are
based on scientific research and results.
Moreover, its
results and return on investment
are guaranteed.
Visit Ready 2 improve via their website @
www.ready2improve.be