Demotion can be the best career choice
Will your career always show an upward trend? Probably not. You can also take a step back. This is called 'demotion': the shift from a high rank to a lower one. At least, this is the definition you can find in a dictionary. In reality however, 'demoting' – yes, this is the word used in corporate psychology - actually means 'degrading'.
Taking a step back is not tolerated in our society. Those who do it, are weak. Those who are successful, are being praised whereas those who take a step back, are being played out. And then comes the key question: 'What does being successful in life mean?'
Taboo
Peter Leyman personally experienced what demotion means. After two unsuccessful career transitions, this former Volvo top man opted for a life out of the spotlight. Now, he is living a modest life as a consultant, but this change has been difficult. This is exactly why he wants to break the taboo. It became obvious during his emotional statement on a Belgian radio station.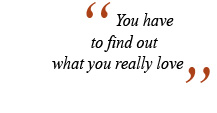 Why can't our society accept that we take a step back? The former Volvo top man compares this phenomenon with the bankruptcy of a self-employed worker. The latter is being execrated and his/her name can be found on all possible kinds of black lists. We simply don't accept mistakes. In the United States however, bankruptcy is often considered as a good life lesson.
One can be forced to take a step back due to reorganization, bad functioning or a conflict at work, but sometimes it is also a personal choice: employees who can't find their niche in a higher rank, searching for a better balance between their professional and private life, eager to go to school again....
Emptiness
Usually, a period of emptiness follows. Suddenly, doubts arise. No plan, only a few perspectives. What am I going to do? What do I want to do? What can I do? Do I still want to work for a boss? Do I still want to work for one single employer? Can I still deal with the permanent stress?
Lots of top men are working around the clock during many years. Every minute, a car comes from the assembly line. Missing one would mean a turnover loss of 25.000 Euros. Leyman compares it with a mental coma because during all these years, he has been neglecting his family and given up his hobbies. Not deliberately. Not out of ill will. No, top people are just living in a tunnel. Often, they get dragged along and can't see what's happening around them anymore.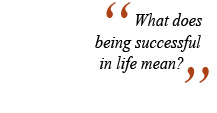 Suddenly, that one particular question arises: 'What does being successful in life mean?' Often, this confrontation brings them down to earth again. Leyman readily admits that he had to give up his high salary. From an objective point of view, he took a step back, but in reality, this step back appears to be a step forward. Everything depends on the criterion you use in order to measure success. There is also something like 'immaterial benefit'.
Quality of life
Quality of life: that's what it's all about. Leyman practises some sport again, plays some music and spends more time with his family and friends. Moreover, at professional level, he still has the feeling that he can offer some surplus value because you never lose your talents and competencies. They are not linked to a weighty title.
Why couldn't a CEO become an ordinary employee? In a HR job, for instance. It would be a win-win situation: the CEO stays active, the company doesn't lose its know-how and society won't have to pay too much for his/her pension.
We just have to look at our career from a different point of view. Considering the strong increase of the ageing population, it would be no luxury at all. If we all have to work longer anyway, we could better fill our working days with sense. And it doesn't always have to be at top speed.
Steve Jobs put it in the following words: 'You have to find out what you really love.'
Steven