No brand lasts forever
Kodak is one of those brands that are so strong that their name has become a synonym for the product they represent. A Kodak? That's just a camera! A very strong brand. However, Kodak remains a giant with feet of clay. This is a little story to illustrate that no brand lasts forever.
In January, something inevitable happened. Kodak asked for Chapter 11. This giant within the photography sector will be protected against its creditors and leave the market step by step. You could call it an honorable retreat. From now on, this company will only focus on online prints, printers and accessories that are compatible with other brands. This world-famous brand name will be conceded to other manufacturers …
Negative figures
Kodak is having a hard time for several years already. Since 2007, it has gone from bad to worse. Kodak has negative figures. Year after year, it has to close its financial year with a loss. 15 years ago, its share still amounted around 100 dollar; now, it only amounts to less than 1 dollar!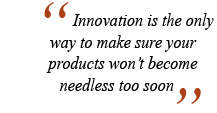 The digitalization of the photography industry is the culprit. Nowadays, everything has been digitalized, even in the world of photography. Kodak was the first company to invent the digital camera. Yet, exactly this digital wave meant the deathblow for the company. The pioneer of olden days is being beaten by many competitors who are proactive, aren't resting on their laurels and aren't stuck in the past.
This is quite ironic because Kodak completely missed the boat. The company invested millions of Euros in the first digital camera, but feared that it would destroy its own analogue photography market, so this project was put on ice. Its managers had no imagination. They couldn't imagine a world without analogue film, which was of course a big mistake! Canon, Sony and Nikon did believe in the future of this new technology and got a lead that Kodak wouldn't be able to catch up with anymore.
In other words: unlike its competitors, Kodak didn't opt for innovation. End of story, game over. Kodak can look back at a beautiful past, but so what? Innovate or disappear! There is no compromise. Just look at Polaroid. The manufacturer of instant photographs also met an inglorious end since it has been absorbed by digital pictures.
Full package
Microsoft - another famous brand name – proceeded in a very different way. At the end of the nineties, this computer giant was already on top, but CEO Bill Gates wasn't too big for his boots, even if Google and Facebook didn't exist yet. He realized the innovation is the only way to make sure your products won't become needless too soon.
Look at the market from your customers' point of view. Consider the following checklist:
Whom do I sell my products to?
What do my customers want? And why do they want it?
How should I meet their demands?
When will they want something else? And what will that be?
Who wants to steal those customers from me?
What do my competitors do?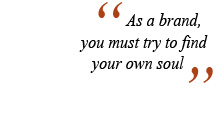 But this isn't enough. The full package needs to be correct. Not only the relevant customer questions must be dealt with. As a brand, you must try to find your own soul. Who am I and what am I actually doing? Apple is not just a computer brand; it is a total concept with a well-oiled marketing machine. Each time again, Apple makes sure to offer a little more. It is always innovating and surprising.
A good product is the starting point, but it takes so much more to become and remain successful. Just look at Starbucks. 'Expect more than coffee.' Starbucks stands for good coffee, of course. However, this coffee company is top because of the entire perception related to it: taste, odor, surroundings, coherence, cosiness, romance … The same goes for Nespresso. The customers enjoy their coffee and 'experience' their Nespresso moment. Consequently, its profit margins are huge.
Always look for the best coffee of the moment and especially use your imagination!
Have a nice weekend,
Steven