Gender and Leadership Effectiveness - A European Study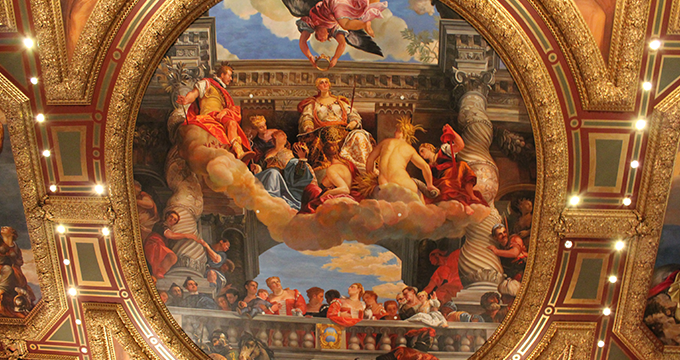 With pleasure we bring this weeks guest column to you, written by David Ringwood. Working out of Dublin, Ireland, David is responsible for all of the activities of the Management Research Group in Europe. MRG is our provider of assessment tools, including their 360 degree Leadership Effectiveness Analysis, which is based on their extensive research. We use this tool often when working with leaders in our coaching practice. Our partner Paul (Donkers) will participate at MRG's global congress in Maine (USA) this June.
David Ringwood, Vice President of Client Development EMEA
We recently conducted a study in Europe that looks specifically at the link between gender-based differences in leadership and their link to the perceived effectiveness of those leaders. This research was based on a sample of 968 male and 968 female leaders in Europe, working in a variety of countries, industries and functions. It uses data gathered from our Leadership Effectiveness Analysis 360 assessment, which measures 22 critical norm-referenced leadership behaviours and includes the observations of the leaders' Boss, Peers and Direct Reports. In this assessment the observers independently describe their perceptions of the leaders' behaviours, but also their ranking of the leaders' effectiveness.
Using a weighted mean to measure the overall observer group ranking of effectiveness, we looked at the correlation between the observer (i.e. Boss, Peers and Direct Reports) rating of the leaders' behaviour and their ranking of their effectiveness. This statistical analysis allows us to answer the question as to the specific leadership practices that differentiate highly effective leaders from their less effective counterparts. In this particular study we are interested in gender differences, i.e. what approach to leadership is associated with highly effective males compared to highly effective females.
Such a study typically looks at two elements; firstly, what gender differences exist in the approach to leadership? And secondly, the extent to which this influences the observer ratings of the leaders' effectiveness in their role.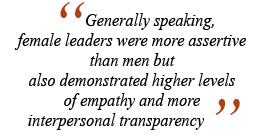 Gender differences were observed in 15 out of the 22 behaviours measured in the Leadership Effectiveness Analysis. Generally speaking, female leaders were more assertive than men but also demonstrated higher levels of empathy and more interpersonal transparency. Women also emphasised clearer communication when working with others as well as providing higher levels of feedback. Interestingly, female leaders also displayed greater attention to operational detail than men, with slightly less emphasis on more strategic levels of analysis.
When it comes to correlations with perceptions of effectiveness, even greater differences were observed. The leadership practices associated with highly effective male leaders (in rank order) were
Strategic
(planning ahead, thinking through potential implications of decisions),
Communication
(setting clear expectations, keeping people informed) and
Excitement
(demonstrating visible energy and enthusiasm).
With the female leader population,
Strategic
was also the behaviour most important for perceived effectiveness, but after this the gender differences became clearer. The
Technical
behaviour (using domain expertise to a significant degree, playing the expert) was very important, as was
Empathy
(demonstrating concern and sensitivity towards others). Interestingly, female leaders who were prepared to challenge the organisation more so than men were perceived as being more effective by their observers – women leaders who are inclined to simply follow the rules and do what the Boss says are seen as less effective.
One of the observer rating questions looks specifically at the observers' ratings of the future potential of the male and female leaders. The biggest difference is that female leaders who are rated as having greatest future potential scored higher on the
Management Focus
scale (taking charge and influencing from a position of authority).
The full slide set fills out the picture, but we can see that the most effective leaders balance their inclination to support with their ability to assert and challenge, and certainly have stronger themes of communication and openness than their male counterparts. It is important to recognise that there is no one right way to lead – there are simply different ways to lead, whether because of gender, culture, seniority or otherwise; it all adds to the richness of leadership.
David
When you want to read more detail on the study,
please
download your copy of the slide set here