2010 Executive Coaching Conference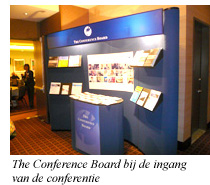 Last week, we participated in the "2010 Executive Coaching Conference" in New York. This conference had been organized by "The Conference Board" in North America. We wanted to stay informed about the latest developments in the field of executive coaching. In addition, we wished to maintain and extend our international network. This meeting was particularly interesting. We have learned a lot during the presentations and discussions. The participants were expert representatives of Fortune 500 companies. On the basis of the presentations, discussions and conversations, we can observe five trends in executive coaching.
In spite of the crisis, companies just keep investing in high potentials and executives! Almost all companies that participated in the conference, had maintained or even extended their budgets for executive coaching.
In the past, executive coaching used to be wrongly confused with "remedial" coaching, but this isn't the case anymore. Nowadays, executive coaching is focusing on the "seniors" and "the best and the brightest" of the company.
Whereas executive coaching often used to be relied on as an ad-hoc activity, it has now become an integral part of companies' strategic business planning.
Most types of executive coaching concern "behavioral" aspects. They focus on the realization of sustainable, visible and positive behavioral changes allowing the executives to operate more successfully in this world which is becoming more and more complex. In the past decades, this method has been considerably developed and refined by Marshall Goldsmith, amongst others. Meanwhile, his approach has become the standard for many Fortune 500 companies such as Microsoft, NASA, Procter & Gamble, American Express, ING Americas and Google, having all attended the conference. For us, this was the confirmation that our program matches well with this approach.
Various companies offer executive coaching; they are almost all "boutique" firms. Although there are some bigger companies, they don't have executive coaching as their core activity. Examples: LHH, Hay and Egon Zehnder, respectively specialized in outplacement, remuneration and executive search. For their top talents, companies mainly select the coach as an individual, rather than the company represented by someone. This is why we also invest a lot in the elaboration and maintenance of our own networks with experienced business coaches. In this context, our participation in this conference has been useful in order to extend our network.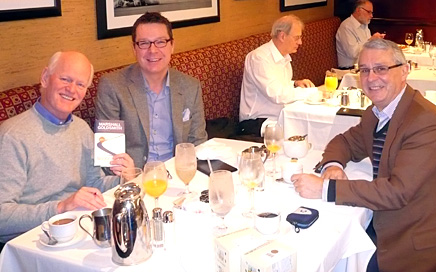 Marshall Goldsmith, Paul Donkers and Herman van Herterijck during a working breakfast before the start of the conference
Meanwhile, we are back in the Benelux. Luckily, we managed to avoid the snowstorm affecting the eastern part of the US last weekend; it stayed in Washington DC. Brrr. It was cold out there, but now our minds are filled with some new inspiration!
Herman & Paul