Kill the silos!
The more an organisation is expanding, the more it is likely that there's less collaboration and that silos will thus emerge. I've known companies whose employees were each other's true enemies; they didn't pay attention to the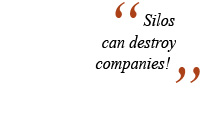 competition anymore. I've seen people wasting 10 or even 20 hours a week to internal politics. They were wasting their time by sowing discord and running their own colleagues down. Employees who were driven by self-interest and frustration and were not properly coached by their managers. Imagine what bottom-line business result improvement could have been achieved if all this precious time wouldn't have been wasted. Also with regard to the well-being of those concerned.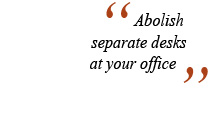 One of the management's core missions is to avoid silos. If there are silos, they should be killed as soon as possible, by any means! Silos can destroy companies! Leaders should reward collaboration, stimulate innovation and take the initiative to ensure intensive internal communication.
Hereunder you will find six pragmatic ideas for leaders in order to prevent or combat silos in your organisation:
Try to lunch together as often as possible. When I was in charge of the daily management of a consultancy company in the Benelux, I asked to install a large square table for 12 persons on a central place in all offices. Each day, these tables were cosily set, at the employer's expense. As a result, people were internally networking and exchanging information on a daily basis, which increased collegiality.
Regularly send people on secondment to another department. Make sure people don't stay too long in the same department and don't get bored in their job. Determine a maximum delay for each job.
Ensure permanent and open communication. Each time again, I'm surprised to see how easily managers underestimate their employees' need for information. Even when there is nothing to communicate, you should repeat a message! We're living in a fantastic digital era offering lots of opportunities through the Intranet, email, newsletters and video messages. Of course, you can also get on the soapbox yourself.
Abolish personal desks at the office. This will allow you to save space. Moreover, people will be forced to give up their existing patterns and it is likely that they will have more contact with other colleagues.
Organise activities which are not related to work. Work also fulfils people's social needs. The better people know each other, the more they will collaborate.
Introduce 'cross-functional' incubators. Don't hesitate to designate employees from different departments in selected projects.
This kind of measures will allow you to actively combat silos and thus enable the organisation to stay healthy in future: not only at strategic and financial level, but also in terms of the well-being of its employees. Leaders should keep investing most of their time to combat silos. The competition is on the outside of the company; make sure your employees keep focussing on that!
If you have some other ideas which can be put into practice, please let us know by adding a comment to this column.
From here, I wish you a nice Saint Nicholas weekend.
Paul