The new way of working – Old wine in new bottles?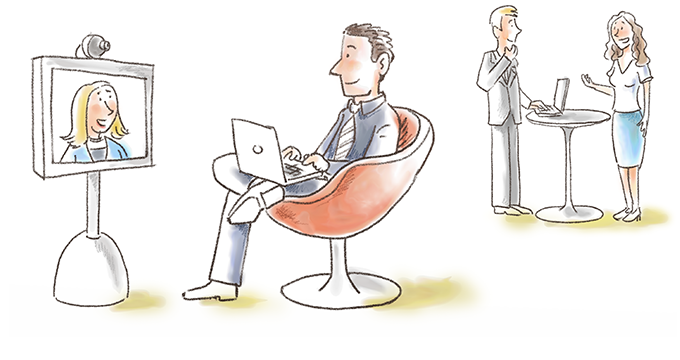 15 years ago, the insurance company Interpolis, was one of the forerunners in Holland when it came to the introduction of "the new way of working." No designated desk anymore, however you are bombarded as a mobile employee, whether you like it or not!
With your briefcase under your arm, you need to find a desk suited to your role at that moment – a small cubicle if you need to concentrate, or a round table for team meetings. We find it normal to work a couple of days from home - just like having to pop out of work to pick the kids up from school. Open plan offices for more spontaneous exchanges in which misunderstandings will be avoided. No more photo frames on your desk. Instead you have multi-tasked evenings on the couch with your laptop on your knees; television on; trying to establish your new work/life balance, or what's left of it!
At a superficial glance, this new way of working has a slight technical matter to it, although it has more of an impact then at first sight. It forces all managers to coach their teams in another way and to evaluate the outcome. It is less clear to find out what people are doing. Managing on their presence is not possible any more. Managers need to let go of their trusted control models – a model which they have been formed for years by their employer. In the past, a system whereby the manager was always the first in the office and the last to leave, in order to show a good example, no longer has such an impact.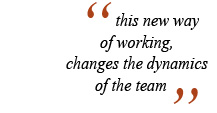 When I was running companies and leading teams on a bigger scale, in the decade before establishing tèn company, I have always worked with my teams in the same model that they now call "the new way of working." From my own practical experiences, I would like to share with you the following:
Communicate, communicate and communicate! Since people no longer see each other at the coffee machine, the need for communication has only become greater. Conference calls, town hall meetings, video conferencing, email updates and more walking around, all help. Try to use the moments that you are in the office for productive interaction with your people. Resist the temptation to lock yourself up in your office. Quality communication and connecting to the people in your team is a prerequisite for a successful leader in the 21st century.


As a cultural investor, it is essential to constantly control and monitor the culture in an organisation. In practice, this remains difficult. I know from past experiences, how deep it is embedded in our culture to manage on presence. Who has not heard of the example whereby a cynical "good afternoon" is mentioned if someone comes into the office at 09:30 because they have been standing in a traffic jam for two hours! Set a good example yourself. Give people the time and space to do their work in their own way, however, at the same time, monitor the results of their work. Be hard on the matter and soft on the people. This is not easy, but it is the best approach.


Make it clear that new rules are validated. For example, the minimum days in the office and number of people indoors. Organize, for example, joint working lunches in the office. There is a risk that people become too distant from the organisation if there are too few frameworks. My lesson learned in the first years was that, in hindsight, some people required a bit more support to adapt to the new way of working. However, in most cases, it was just the opposite. People were far more productive and more involved. I needed to coach them more on how to guard their own boundaries in a better way.


Facilitate more team activities. This new way of working, changes the dynamics of the team. It is more important to spend some time with each other. This can be a traditional team-building like a cooking workshop or a survival. However, a good facilitated group conversation is just as important to clear the air.
Correctly executed, this new way of working gives people the chance of a better binding with the organisation and to come to a better business performance. As an addition, it is a way to save on real estate costs. But we have to be realistic also. This new way of working, is in a few years from now the new normal. Then there is no option anymore to distinguish yourself from the competition. The reality is that people join an organisation because of the image or the brand. They leave the organization because of their direct manager.
People work with the principle of inertia. Nature-wise, we continue doing things like we did in the past. It is difficult to stop this – it is the way we are composed. Therefore, in implementation of the new way of working, guidance is essential. Support your management by enabling them to learn skills for situational leadership and coaching techniques.
Is the new way of working "old wine in new bottles?" No, I don't think so. If you look a bit deeper, the way you lead people is fundamentally different. That really asks for another way of designing and running your organisation.
Paul