Networking to find something? Stop looking and start giving!
In the late nineties, I visited for the first time New York as a professional. From the annual report of the Adecco group, I figured out that Lee Hecht Harrison was a part of the group. During the mid-eighties, through an acquisition, LHH became part of the group. The acquisition had two main motives: to offer help with downsizings and to be less dependent on cyclical fluctuations in the economy. Through the acquisition of LHH, they got a anti-cyclical activity in their portfolio. Something that the shareholders, in years to come, would appreciate! I contacted them because I found myself attracted to the firm, from what I had read in the annual report: an international office, with their headquarters in New York. After a few phone calls, I was introduced to Steve Harrison. At that time, Steve was the president of LHH, and his name appeared on all the doors of their offices around the globe.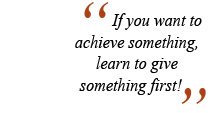 I will never forget one of the first lessons Steve taught me:
"If you want to achieve something, learn to give something first!"
And that, then spoken in his New York accent...

I made sure that this lesson was secured in my head, and I dare to say that still today, I have the benefit of working this way.
A rhetoric topic of discussion with our coachees is to build and maintain a professional network. Most people just spend too little and the wrong time on this, while in fact, the further one grows in a career, the more important one's professional network is.
Do's
Be authentic and always keep a long-term perspective while networking.
Give gratitude to other people.
Feeding your network with useful information will show that you are involved. For this you can use Twitter, Facebook and Linkedin.
Make sure that your digital footprint strengthens your proposition so that it clarifies who you are and what you do.
Give! but don't expect anything in return. As a further grounding of this principle, read the book from Deepak Chopra – The Seven Spiritual Laws of Success
Dont's
Hide yourself behind technology. You cannot build up relationships through a screen.
Not listening to feedback in your surroundings on an impersonal approach.
Focusing only on the short term.
I still am thankful, that during the time, when I did not have much experience and had only a limited track record, Steve gave me the opportunity to represent their firm in the Netherlands, and later in the Benelux. With that, he took a risk in the reputation of their firm. For me, it was a great opportunity to build up my career. On this note, I wish everyone a chance to meet such an ambassador and coach in his/her career. And grab that possibility when it passes your door!
Paul