Short-term results: the best leverage to achieve your long-term goals
Congratulations on your appointment in a new senior position! However, research has shown that 40% of all appointed people fail within 18 months, which thus implies a considerable risk. In other words: you know that this is just the beginning. But where do you have to start? A sound preparation allows you to settle in much faster. Once you have started, especially those first 90 days are crucial. By acting effectively during the first three months, you will build your reputation and create momentum, allowing you to achieve your personal long-term goals as well as those of the organization. Often, there is still some touch of innovation around the new boss during those first months. Sometimes, I hear people say: 'he is intense' or 'she is a good listener'. I would advise you to do the following: take advantage of the fact that you are still being perceived as 'fresh' in the beginning, because after those first impressions, we all just appear to be ordinary people with strengths and weaknesses.
One of the most effective aspects of making a good new start is achieving 'quick wins' (= achieving short-term goals for the organization). It seems like a paradox, but it has the biggest impact of all. Gaining short-term success will allow you to work serenely and to achieve your long-term goals. So, this is not an argument in favor of gaining short-term success, but just a tool to achieve your long-term goals.
Where is it often going wrong? Literature and our own practical experience have taught us that it can often go wrong in the following fields:
lack of focus. You might get caught up into the existing organizational structure sooner than you had expected. As a result, you will lose your focus on the short-term goals you had defined.
although you defined your personal short-term goals and discussed them with your boss, you might not sufficiently consider the organization's current situation when trying to achieve its goals. You could, for instance, listen to all stakeholders at first. This can be very effective if you have the time to build something. If the roof is on fire however, you will rather need to act vigorously and to take the decisions that will have to be carefully executed.
you can focus on the short-term goals, but if you behave like a bull in china shop and don't sufficiently consider the prevailing culture, you might eventually fail. Mind you: of course, this doesn't mean that you should unthinkingly adopt the existing culture!
if you realize short-term goals that are not sufficiently relevant to your stakeholders, and to your boss in particular, you won't achieve much in the end.
if you manage to achieve your short-term goals, but in a way that can harm other people, you won't be effective after all. Always bear in mind that you have an exemplary role and that your behavior should thus be exemplary.
your goals aren't sufficiently spread. If you only focus on one particular project, you can always fail. You will be working more effectively by focusing on a restricted number of goals. Enclosed, we have joined a simple schedule in order to help you with it.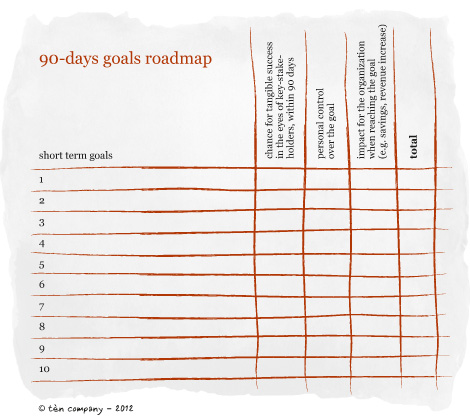 Click on the illustration for a pdf-version.
Count up the results and determine your 'top 3' based on the three highest scores. Then, you should rigorously focus on this top 3.
If you would like to read more about making an effective start within your first 90 days, you will find more literature
here
. Three years ago, we also wrote a column about making a new start. You will find it in our online library.
Conclusion:
Short-term success is the leverage you need in order to achieve your long-term goals. It is thus not an argument in favor of the short term as such. According to my experience, people are continuously combining the short and the long term in practice. You need to consider both aspects in all decisions you take.
Paul