Help, my boss has no EQ!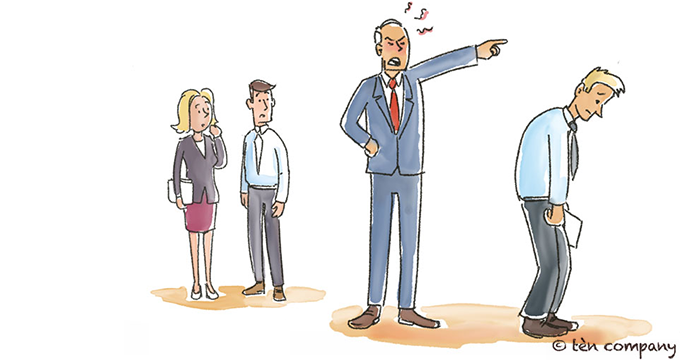 A few years ago, we were busy with a large change management project for a Dutch company. While we were delivering our mission, one of the directors of the management team was regularly driving his employees mad with his behavior. This man was considered a real professional in his field. He knew his business very well. Therefore, he was widely being respected within the company. However, his behavior was so explosive that it threatened to overshadow his overall performance. When he didn't get what he wanted, he regularly started yelling, showing no mercy at all. When being angry, he sometimes said too much; even things he would regret afterwards. But once he had said something, it was out there and people wouldn't forget it anymore.
His verbal aggressiveness caused a lot of trouble. The work atmosphere in his division was bad. People did their job dutifully, but without the initiatives you would want as the senior leadership. Consequently, they couldn't develop. Yet, one of all senior managers' core tasks is to help their employees developing. During the two years we were working with this company, we were confronted with the absenteeism of several executives having burnout complaints. Many of these complaints were caused by this director's behavior. We quickly calculated that, in this case, the loss of productivity corresponded to an amount of € 500.000 – 1 million. And we haven't even mentioned the personal damage suffered by the families concerned and for the person himself.
Almost everyone is at some point during a career confronted with a boss with whom it's hard to collaborate. What is the best way to protect yourself when confronted with such explosive behavior as in our example?
don't immediately react. Your boss expects you to do so, but that isn't effective.
patiently summarize what your boss just said.
try to talk softer and more slowly than your boss.
sometimes, this approach gives the yeller the feeling that you really listen. This will help to calm down and allow for a conversation.
if not, tell him you will have the conversation when he's calmed down.
Regularly, I hear people say: "How is it possible that such a person has reached
that
level?" However, this remark implies that people with a top management position are exceptional people in all aspects. Well, mind you! Even directors are ordinary people. It is more effective to think about how you can change the situation yourself. What can you do? According to our experience, we know that the board of directors or the CEO is usually well aware of a top manager's strongly ineffective behavior. Sometimes, they have to wait for the right moment to take action. And sometimes they are already taking action behind the scenes, but they can't always openly communicate about it because of the hierarchy.
In recent years, we have been delivering hundreds of 360 degree assessments for top managers. Luckily, they lead to awareness and often to acceptance. No matter how difficult it is to master new behavior, the first step is always to understand yourself better!
Paul