How to avoid the biggest derailers of your career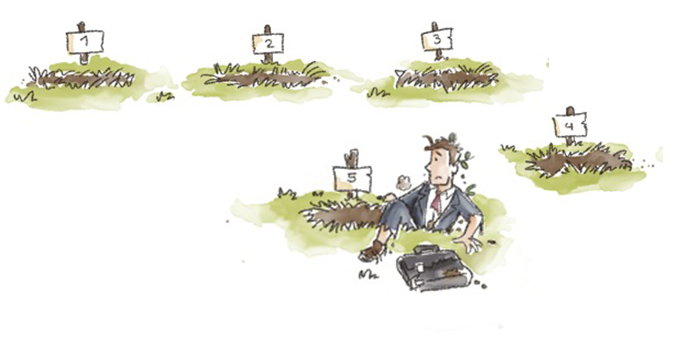 'It's not what they say about you, it's what they whisper'
Errol Flynn
Research* shows that almost 65% of all managers derail at some point in their career. We are talking about talented, ambitious people often disposing of impressive degrees from prestigious business schools. The fact that they derail, is often being caused by a lack of insight into their own way of working. The higher you climb the ladder, the more important the way you do it, becomes. This is a subtle process. An additional problem is the fact that your entourage gives you less and less feedback after each promotion. I can confirm this, based on my own experience. Throughout the years I have been working for a large company, I always heard increasing less – the more my career was evolving – about what people really thought of my behavior and decisions. Sometimes, I even thought I could see people keeping their mouths shut, but non-verbally giving very different signals. To put it briefly: your environment is becoming more and more complex. When your stakeholders don't give you enough feedback, you should start actively look for it yourself before you get caught up by the consequences of your lack of self-knowledge.
You can, for instance, use the following Risk Assessment Questionnaire in order to get an idea of which might be the main risks that could hinder the successful continuation of your career. Assign yourself a score on a scale from 1 to 10 for each question. Subsequently, ask some of your stakeholders, your boss, colleagues, employees and customers to assign you a score and give you some feedback. If you interview several people, than take their average score.
Risk Assessment Questionnaire
**
How good is your reputation among the leadership team and your colleagues?
To which extent is your emotional intelligence developed?
How good are you at motivating and developing your people?
How good are you at proactively monitoring progression?
To which extent do you have financial insight?
Ask your stakeholders to assign you a score for each question (1 = the lowest score; 10 = the highest score). Process all information they gave you. Compare the results. Is there a thread? Ask for feedback in case of low scores. Make sure you fully understand what someone really means before drawing conclusions. Complete this exercise by asking what they would do if they were standing in your shoes. Also known as feedfoward. Subsequently, draw your conclusions, select the information which is most relevant to you and set some goals for self-improvement. Asking for feedback yourself in a structured way has been proven to be effective. The information you received, will allow you to start improving yourself and to adopt some new habits. This approach for the further course of your career might make a huge difference.
As usual, we are looking forward to reading your experiences.
Have a nice weekend!
Paul
* Why ceo's fail, English
** These questions are just a small selection. We integrated the entire questionnaire in our book that will be published at the end of this spring.
You can reserve your copy of the book by clicking here
.