Two great books on how to build a management team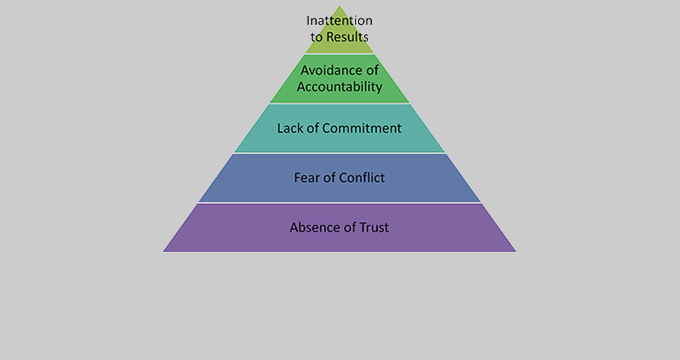 Patrick Lencioni
wrote a well-read book a few years ago called
The five Dysfunctions of a Team
. In it, he works with a pyramid of five levels. Management teams can not be effective, if they do not work well together on each of the different levels. You need to address each level before you can reach the next stage of the pyramid. For example, you should be able to trust one another before you can deal with conflicts in an effective way.
Another method comes from the authors of the book
Power Score
. They serve up a credible way, for all the leftbrainers among us, to calculate how a successful management team can be translated into numbers. With this approach, they make the missing potential of a team visible. They suggest what you can do differently to achieve a higher score. Their formula measures three parameters:
The priorities of the organization (the WHAT)
Who will do it? The people in the management team that work on the priorities (HOW).
Relationships. How do we work together here? (HOW)
Are you interested in reading more? The two books discussed here are a great starting point. Via
the reading list
on our website you will find many more relevant books that we've read and preselected for you.
Our experience is that building a successful leadership team requires an investment in time and money. To begin with, the CEO must really believe in it.
Hope this helps.
Paul Donkers
P.S. There's nothing wrong with visiting a soccer game with your leadership team or to organize a dinner with spouses. But if you really want to get the potential out of the team, that's not enough. Each year we support many leadership teams worldwide. We help them to develop themselves to a higher level. If you want to speak to us about how we can help you, please contact us.