Can you delight your customers day after day?
The Internet is a blessing. You only realize it when your connection is interrupted. "It's not the end of the world", I thought to myself. "I just have to call my provider's customer service in order to be back in business". Gosh, what a disappointment!
Computer voice
After a friendly computer voice had told me how important customers are for the company and to which extent it considers customer satisfaction of paramount importance, I was asked straightaway if I would like to participate to a short survey. 'If yes, press 1'. The company would do anything for its customers, wouldn't it?
I already started to feel uneasy, but this was only the beginning of my agony. The computer at the other end of the telephone line confronted me with an endless list of questions. This list didn't mention my problem, but I was relieved to hear the following words: 'You will soon be connected to one of our employees. One moment, please. '
However, my feeling of relief didn't last long because the cheap little background tune was regularly being interrupted by the joyful message mentioning that all employees were busy... 'One moment, please. '
'Wow or zero'
42 minutes later, I was told that all troubles were due to an internal conversion. Case closed, problem not solved! Nothing but frustration...
The result? I was left with a 'zero feeling' instead of a 'wow feeling', so I immediately decided to choose another Internet provider. Customers are not interested by impressive mission statements and surveys; they just want their problem to be solved. How customers experience your service in practice, is most important.
Is it useful to irritate your customers, after 42 minutes of frustration, with an even more frustrating standard list of questions about your customer service? If your company intends to chase away its customers, this strategy definitely seems to be the best! It only leads to frustrated customers and lots of meaningless figures.
Lots of figures
Most managements really like measuring 'customer satisfaction indices', 'customer service levels' … . They invest a lot of money into it, because 'measuring is knowing' and 'the customer is always right'. But what do those impressive reports with histograms tell us? Do we still know what we are measuring or are we evolving towards the monthly publication of standard reports, just because this is the way it should be?
All these figures are merely intended to ease the directors' conscience! How did it come so far? Let's play devil's advocate for a moment:
Does the management still know the practical aspects of its customer communication?
Does the management still feel its customers or have the latter merely become an abstract concept?
Does the management still fear its competitors? Do the managers still work themselves to the bone for their customers or are they just functioning on automatic pilot?
Are the employees sufficiently trained and motivated?
Do the internal silos between departments complicate an efficient customer service?
As far as my problem is concerned: why hasn't the Internet provider warned its customers proactively? Was the communication between the technical service and the customer service good enough? I don't think so!
Customers are looking for a personal approach, for a solution to their problem. Here and now. The essence of good service can't be conceived by means of indices and levels. Corner shops didn't use indices to measure customer satisfaction. Unsatisfied customers simply didn't come back.
The secret of good customer relations lies in 'face-to-face' contact, even if your enterprise has become a multinational!
Bottom line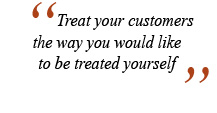 The bottom line is that companies often don't know their customers' faces anymore. Unknown doesn't necessarily mean unloved, but it does often mean 'unserved'. The more your company is growing, the more it is losing its pioneer spirit. Figures can be useful and are even necessary, but you can't solve your customers' problems by simply applying the right formula.
Customer satisfaction is something you should deserve, day after day.
Treat your customers the way you would like to be treated yourself. Hence, my creed:
Delight your customers day after day!
I keep repeating it. Never lose touch with your customers and make sure your employees having daily contacts with them, are well-informed, well-trained and motivated. Teach your employees how to actively listen to your customers.
Losing a customer only takes a fraction of a second!
What about the customer service of your company? The time has come for a 'self-test'!
Herman