Unlike customers, salesmen don't know why anymore
I am a silent observer but again, I'm not talking about one of Puccini's operas, for instance, but about a brainstorming session with some top managers of a middle-sized Italian clothing company. When I met them by coincidence a few months ago, I was - as usually - intrigued by their questions although marketing is a very simple concept: do customers buy from us or from our competitors, and why?
Instinctive feel
Your instinct can help you a lot. I experienced this when talking to the top managers of this Italian clothing company. They were bitterly complaining because they had been mercilessly affected by the economic crisis, their turnover as well as their profit was still decreasing and all kinds of promotions or innovations didn't really help to solve their problems.
However, the situation wasn't so bad after all. After I had asked them a few relevant questions, they reluctantly came to the conclusion that their sector was actually recovering, but that their company was staying behind a little bit.
The tone had been set and my curiosity had been aroused. They invited me for a brainstorming session. I only had one condition: I needed a benchmark of their most successful competitors because I didn't want to participate in their meeting without being prepared.
To the point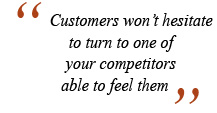 Our intentions were put into action: one week later, we held our meeting. I immediately came to the point by asking: "What is your competitors' essential trump and to which extent does your company dispose of this same trump?" Suddenly, the room was filled with consternation. As I had expected, many claims and expensive statements – whether relevant or not - were formulated.
As a silent observer, I was listening to everyone. I was patiently waiting and asked one important question: "Why … ?" Once I had their attention, I continued: "Why do some customers still buy from us? Why do others often prefer our competitors? Why do some stay loyal? Why do others give up on us?"
Time for a brainstorming session within small groups. I asked each group to compare the own company with a competitor. At the end of this session, my interlocutors could smile again, even in full economic crisis! After our collective thinking, we came to the conclusion that nothing was wrong with the portfolio or quality of our products; even our selling prices were reasonable after all. But what was the problem then?
Passion
It became clear: the problem could not be conceived in terms of figures. It could only be felt by means of the instinct of a marketing specialist with common sense. Our thinking could be summarized in four words: 'passion for the customers'. Apparently, this passion was slowly slipping away after the first generation had passed the torch. Unlike the company, its two most important competitors were still staying close to their customers; this was exactly the solution to our problem.
Think, act and feel like your customers! That's the essence. Eventually, everything starts at customer level: without them, your company has no reason to exist and even the best accountants can't help you at this level. Passion for your customers is extremely important, not only when starting up your company, but also afterwards. When the founding fathers leave the company, this passion can start fading away and this is exactly what you should avoid.
Customers want to 'see and feel' the company. Your company needs a face and your customers want to identify themselves with your brand. Always stay close to your customers, even when your company is evolving towards a middle-sized or multinational one. Customers won't hesitate to turn to one of your competitors able to feel them!
Freewheeling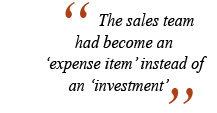 This is all theory, but how can you put it into practice? Time for a second session: each group was trying to find out 'why' the company founder used to be so successful. After some freewheeling, we came to the following conclusions:
There was a direct and interactive communication between the sales team and the direction (in those days, there was no real direction yet);
After each sale, the company asked the customers' feedback: 'Did everything happen according to your wishes? Could we have offered you a better service?' The customers' wishes were compiled and regularly concretized into small improvements;
Each month, the sales team enjoyed an interactive training during which all improvements were explained and practiced (even by means of role plays);
Each decision directly involving the customers, had to be submitted beforehand to an expert panel of salesmen (meanwhile, this panel has been abolished because of budget cuts)!
These are not all the reasons, but the conclusion is clear: in the course of time, essential links have been eliminated, neglected or abolished. The sales team had become an 'expense item' instead of an 'investment'.
Our analysis has shown that, unlike our company, our top competitors had kept paying attention to the face-to-face contact with their customers. This allowed them to obtain better results, even with decreasing advertising and promotion costs.
Self-test
In order to make choices, customers not only rely on their 'intellect', but also – and especially – on their 'feeling'. Of course, your products' and services' quality should be outstanding, but there's much more. What about your service and the contact with your customers? Why do people work for our company? Do they simply rake in the money or do they really care about customer satisfaction?
Again, I advise you to do the self-test. Try to find out why you (don't) stay loyal to a particular shop and apply your reasons to your own clientele.
So, the shoppers among you will have a lot of fieldwork this weekend!
Herman