Leave the door open as long as necessary
You only live once and every day is unique. So, it's up to you to make the best of your life! These are wise words, but how can you put them into practice when you're stuck in a job you actually don't like anymore?
I can only give you one good piece of advice: do something about it! Don't give up! Leaving – fleeing actually – is the easiest, but definitely not the only nor the best solution in most cases. The grass might be greener on the other side but mostly, it isn't. You can always resign later, but asking your old job back is much more delicate…
SWOT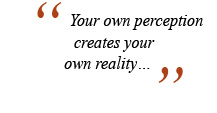 This might sound a little bit corny, but try to make a pros and cons list. What do you like in your current job? What do you dislike? See it as a
SWOT analysis
of your own work situation; an easy thinking exercise enabling you to distance yourself from the situation for a while. Moreover, such a list is a way of 'self-coaching', allowing you to sharpen your own leadership skills. Put yourself into a broader context: self-knowledge is the beginning of self-improvement!
How to proceed?
Hold a brainstorming session.
Make two lists: one for the positive items and another one for the negative items. Place outweighing arguments on top. You can also use a mind map (free software) to organize your ideas.
Time for a second brainstorming session. Write a possible solution next to each contra item. How can you change something unpleasant into something less unpleasant or even into something nice?
Self-analysis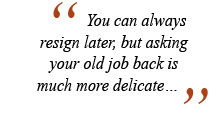 This exercise will give you the opportunity to write down a thorough self-analysis. By doing so, you will be able to put things into their right perspective again. By nature, people tend to blow up things annoying them, whereas they take the nice aspects of their job for granted after a while. You should keep putting things into perspective! Be creative and consider it a challenge enabling you to grow.
During the second brainstorming session, you can ask yourself the following questions:
Can I do my job in a different (more pleasant) way?
Can I make my tasks more pleasant by spreading them (among colleagues if necessary)?
My job seems boring, but is it really like that? Perhaps, I should stop looking on the dark side of things as far as my tasks are concerned?
Can I defuse tensions by openly discussing them with my boss or colleagues?
Can I compensate less pleasant tasks by focusing more on their nice aspects? Try to achieve the right balance!
Perhaps, I should ask for help; this is not a shame.
Can I improve my workplace ergonomics and environment?
Spiral
In other words: remain in control! Don't get carried away by a spiral of criticism and negative thoughts. Be yourself and bear in mind that backbiting is not a good way to let off steam, because sooner or later, everyone will know what you were complaining about… By keeping an open mind, you will experience much more and get more opportunities.
Face-to-face interaction also works! Don't make expensive statements, but try to understand why your colleague or boss is doing something in a way you consider unacceptable. Perhaps, they don't mean it this way at all? Your own perception creates your own reality… So again, dare to be self-critical! Try to clear the situation 'together', in order to grow stronger 'together'.
Anyway, those of you who are going to mindmap this weekend, won't be bored!
Herman