Look before you leap!
'What a terrific car!' These were my first words when congratulating an acquaintance of mine at his arrival during the old-timer rally 'Scheveningen-Luxembourg-Scheveningen'. Afterwards, it appeared that his nice car only had a small contribution to his amazing performance…
'No success without a decent preparation', he replied laconically and with a smile. Nor the old timer, nor his driving skills appeared to be the main reasons for his success; his thorough preparation was the key to it!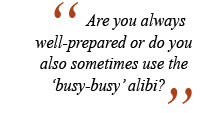 For months, the pilot and his partner had been meticulously preparing the race. They had accurately mapped and thoroughly explored the track. Where are the slopes? Are there treacherous bends or roads in a bad state? They had meticulously integrated all details in the itinerary.
Dirty work
In fact, all your 'important' appointments, customer visits, assessments … are like a rally: if you're not well-prepared, you won't be successful. According to my experience however, people often hope they will have a flash of intuition. This is not a good habit! Don't overestimate yourself and especially don't think someone else will do your dirty work.
If you haven't decently prepared your customer visit, you will undoubtedly make a poor show when answering the first tricky question. As far as assessment interviews are concerned, not preparing yourself is sheer stupidity. Believe me: there is no magic trick for this. Look before you leap! Are there any alternatives? What are the consequences of my actions? Do I know enough about the subject?
Alibi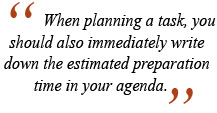 Busy, busier, busiest … 'My agenda is chockfull. I really had the intention to go through all documents, but there are only 24 hours in a day', is what you often hear. Bullshit! Only results matter. Dare to be self-critical: don't hesitate to delete unimportant items in your agenda. Is something 'need to do' or 'nice to do'? Learn to set priorities and you will be surprised. Consider it a part of your self-coaching program.
How do you deal with your important agenda items? Are you always well-prepared or do you sometimes use the 'busy-busy' alibi?
Whatever the answer, here's some good advice:
Good improvisation is a gift. A flash of intuition can be very refreshing and even necessary, but don't go further than a calculated guess. Don't take irresponsible risks. If you don't master the subject, you won't be successful by guessing.
Don't say too easily that you're too busy. Your busy agenda might be a perfect excuse for not tackling what is really important – and perhaps difficult. Don't fool yourself! Take the time for a little reflection. Indeed, I would even compare it to meditation.
Keep your ego under control when necessary. Do you really have to attend all meetings? Do you really always have to give your opinion, even when you're not (sufficiently) informed? Don't forget that self-knowledge is the beginning of self-improvement.
Claim enough preparation time for important tasks. The best way to do so, is by systematically reserving some time in your agenda ('quality time') a few days (or even weeks) beforehand. This way, you won't be able to 'flee' from your problems anymore.
When planning a task, you should also immediately write down the estimated preparation time in your agenda. This might sound a little contradictory, but I can assure you that a rigid approach will make you feel freer. Self-discipline is the key.
'Plans are nothing, planning is everything'. With these wise words by Dwight D. Eisenhower, I wish you all a nice weekend of meditation.
Herman