Negotiating: an art or a skill?
The smoke has cleared for a while in the Belgian government. As the new royal mediator, Johan Vande Lanotte must try to overcome the political deadlock in the negotiations in our country. His task is to end the war of figures which has broken out since Bart De Wever introduced his compromise paper.
Previously, a preformateur, a formateur and a royal clarificator hadn't managed to solve the situation. Our country enjoys a rich tradition of compromise but this time, the negotiations are already lasting for a very long time… What's the matter with Belgium, for God's sake? Has the current political generation forgotten how to negotiate?
Not a game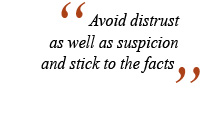 Actually, I see a lot of similarities with corporate life. Even the best family-owned companies can have a hell of a row. Personally, I had to put things right more than once for partners and generations who didn't manage to reconcile their extreme points of view.
Negotiations are not a game, are they? Good negotiations are necessary where people come together and especially when they should work together in order to achieve results. The art of negotiating is even required in order to succeed together!
Are good negotiation skills something you are born with? To a certain extent. By nature, some people feel how they can work towards a good compromise. Are you less talented? No problem, it is a skill you can learn and practice. I have often organized role plays in order to sharpen my teams' skills.
Three-step technique
In my opinion, there are three basic requirements for successful negotiations.
The first requirement is a minimum of
trust.
Avoid distrust as well as suspicion and stick to the facts. Parties distrusting each other, keep their 'trumps' up in their sleeves. When they feel cornered, they will often come up with emotional as well as personal arguments and statements. In such situations, constructive solutions are hard to find…
Transparency
is the second requirement. Deal with the matter as a good diplomat: take into account your opponent's emotional sensibilities, without constantly evading the questions however. More than once, I had to save contract negotiations which were completely in the deadlock. Often, we could only proceed to the core issue as soon as I had convinced everybody to openly compare the benchmarks. Transparency is most important: dare to clearly reflect the requirements and breaking points by means of bullet points.
'Scenario thinking'
is the third requirement. Once there is trust and transparency, the real work can start: there is a 'yes atmosphere' enabling all participants to elaborate scenarios for possible solutions together. First, you should - without prejudices - unite all elements for a collective brainstorming session. Afterwards, you will still have enough time to screen possible solutions in a rational way.
I can assure you that this 'three-step technique' has already been very useful to me throughout the years.
Points of interest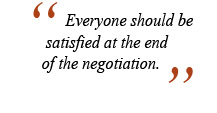 Of course, there are no standard formulas for success. Each situation is different and you will always have to find an adequate mix of leadership styles. That is why adjustments during the discussions are a must!
Anyway, bear the following points of interest in mind:
'Choose your battles'. Set your priorities and don't argue about each point. If you try to obtain everything, you might lose everything. Starting the debate with clenched fists, will immediately cause resentment.
Determine your own minimum goals beforehand. Choose your course first and decide where you can make some concessions. Ask yourself beforehand which objectives you absolutely want to achieve, but make sure your opponent doesn't have to leave empty-handed. Everyone should be satisfied at the end of the negotiation.
Listen actively. Defend your own points of view, but also listen to the others' arguments. There are always common interests on which you can build!
Start with a clean sheet. If you have had some unpleasant experiences with your opponent, you should clear them up first. If you don't, your past will constantly catch up with you: future constructive collaboration opportunities will then be deemed to fail.
Regularly check if everyone is (still) at the same wavelength. A Babel-like confusion is useless. Create trust through clear communication and use examples in order to highlight your point of view. Once I had a meaty discussion with union members in Italy: their idea of flexibility was recruiting and dismissing, while the purpose actually simply consisted of introducing flexitime. They have been talking for two hours all' italiano, without obtaining any result … Only after I had compared their situation with a similar one, they understood that flexibility would also create extra jobs!
I challenge you to turn your negotiation skills into an art!
Have a nice weekend!
Herman