Don't pass the buck!
About the principle of the 'sleepless night persons'
Refugees are sleeping rough… The asylum policy has always been a tricky problem, but now the resigning government running our country for months already, has demonstrated its lack of power in a very painful way. Politicians don't hesitate to pass the buck to each other. Can we actually still speak of a policy?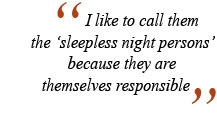 You might ask yourself who has the final responsibility. I'm afraid I can't answer this question because the competences are hopelessly split. We have a whole army of ministers, but do they actually still know what they are responsible for?
Final responsibility
Nevertheless, only a person having the final responsibility can prevent such an impasse. Someone has to assume responsibility, delegate clearly and follow up the situation closely. This is the only way to achieve results.
You can compare this situation to a small enterprise evolving towards a grown-up company. Small entrepreneurs are jacks-of-all-trades: they have to do everything on their own until they can't handle it anymore and get forced to hire people. No problem; after all, someone has to deal with all those new orders, isn't it?
Of course, a growing clientele is a blessing for a company, but there are also some less pleasant side-effects: complex organization charts, bureaucracy and silos. A tunnel vision turns employees into competitors within the same company. I'm talking about tunnels between different departments (sales, marketing, production, R&D …) and between different management levels.
Mouse click
The production team doesn't (want to) know what the marketing team is doing and vice versa. The CEO is losing touch with the basics and so on …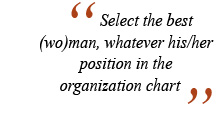 "What happens to the customer complaints and who deals with them?" Is this a catch question? My test question often immediately reveals lots of difficulties: usually, the management is ill-informed and the person having to come up with a solution, doesn't know whom to contact for help or simply doesn't receive any answer. Consequently, after having waited for a long time, the customer finally receives a meaningless answer and decides to turn to your competitors, without hesitating. One mouse click is sufficient.
How can we solve this?
Together with your team, you should concretize your strategy by setting clear priorities.
Link each priority to actions.
For each action, you should appoint one person who will consider it 'his/her task'. This person will have the final responsibility for its sound execution. Select the best (wo)man, whatever his/her position in the organization chart!
Ask each person in charge what (s)he needs in order to accomplish 'his/her task':
Who do you need in your team?
Which budget do you need?
Are you expecting particular obstacles? If so, how can we eliminate them?
Put all this information in a 'project sheet' with corresponding time table and KPIs.
Weakest link
You have to make sure that the persons you appoint, are competent in their field: the right (wo)man on the right place knows whom (s)he can count on and whom (s)he can delegate. (S)he also knows when to raise the alarm and ask for help. I like to call them the 'sleepless night persons' because they are themselves responsible.
Eventually, proper and efficient delegation is the key: it seems as if you're unrolling a chain, but a chain is no stronger than its weakest link … . And as far as 'single-headed delegation' is concerned, these weakest links will soon become visible because misunderstandings about responsibilities are impossible!
Moreover, this approach leads to great satisfaction: people feel concerned as well as responsible and enjoy the appreciation they receive for having accomplished their task. They also gain valuable practical experience in the field of direct coaching.
Let 'single-headed delegation' be the magic word for 2011!
Herman