Put a real team in the cockpit
Three years after legendary Steve Jobs from Apple passed away, we republish Herman's column on the importance of putting a real team in the cockpit. This is our last summer column. In two weeks we'll start a cycle with new material.
The illness of Steve Jobs, Apple's top man, doesn't pass unnoticed. In spite of record quarterly figures, the share of the biggest technology company in the world has immediately started to decrease. Analysts and investors went crazy, especially because no details were provided. This is not the first time however. Does this gigantic company fully depend on one brilliant loner? And how dangerous is the fact that some CEO's have turned into quite a cult?
Stand-in
Is Apple entirely in sack and ashes? No, of course not: Apple has a stand-in for Steve Jobs, so this is not the problem. Also during Jobs' previous absences, operational director Tim Cook was doing fine. He has even been brilliant: Apple's market value has increased by 62 percent. But Cook is not the same man as Jobs. Who did smoothly launch the iMac, iPod, iPhone and iPad on the market? Jobs did, not Cook.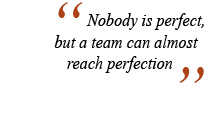 Of course, Jobs didn't do all of this by himself, but his contribution was crucial. Yes, he has a view and strategic insight. Yes, he knows the market, has commercial flair and is a perfectionist. But he has charisma above all: in an enigmatic way, he personifies a sub culture and this is why Apple can't do without him. Meanwhile, Jobs stands for endless innovation. In addition, he also has the right skills to introduce his new ideas into the market.
Essential skills
Company results are being personalized too easily. This is flattering but also dangerous. CEO's seem to be superstars: in good times, they are being praised to the skies but in bad times, they are being mercilessly disparaged. In other words: they often become prisoners of their own image.
There are countless examples to illustrate this phenomenon: Michael Eisner at Disney, Lou Gerstner at IBM, Jack Welch at General Electric, Warren Buffett at Berkshire Hathaway, Rupert Murdoch at News Corp … But these top managers all have a set of 'essential skills' in common:
View (Foresighting). They can think forward.
Charisma. They attract the right people and know how to fill them with enthusiasm.
Orchestration. They know how to turn their strategy into concrete actions. Orchestration implies so much more than organization …
Still, really sound companies shouldn't depend on one man or one woman. An executive team containing the 'essentials' offers the best guarantee towards the future; not a Manager of the Year, but a Team of the Year!
The 'rare bird'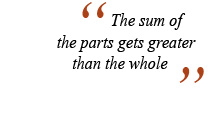 Headhunters often call me to ask if perhaps I know some wonder boy or rare bird able to save one of their customers. But what are all the other management board members doing in the meantime? Are they wasting their time?
Although some people have more to offer than others, you should never depend on one single person! One thing is for sure: the biggest and most sustainable successes can only be achieved by a team in which each member's strengths are being optimized and stimulated: the sum of the parts gets greater than the whole! Some people have a view, others have the charisma to fill their employees with enthusiasm and the rest are the ones moving forward by means of a strict planning and monitoring.
The summation remains the essence, but one single person doesn't necessarily need to dispose of all the stepping stones to success. Top managers are fully aware of this and are deliberately building such teams! Just take a look at some nearer examples: Starbucks, Colruyt, Bekaert…
Ego trippers
Then why do many companies keep feverishly searching for that one rare bird? It seems as if one overpaid Messiah could solve all their problems in no time. Moreover, people playing solo are often destroying everything and obstructing the productive cross-fertilization between their talented team members. When it goes wrong and such ego trippers leave the company, the latter falls into a black whole because its executive team proves not to be strong enough…
These are the reasons why today, I promote an open company structure with a team builder at the top of it. Make sure all your teams collaborate in a close and transparent way. Fully exploit your teams' talents. Let creative people think forward. And let the organizer make the blueprint while others guarantee the internal and external communication in a charismatic way. By doing so, you won't have to search for that rare bird because you will dispose of a team which is stronger than any rare bird!
Nobody is perfect, but a team can almost reach perfection.
Herman