'Leading' isn't supposed to mean 'suffering'
Usually, dictators don't survive. Just look at the Arab world. It is on fire. No matter how, dictatorial regimes try to maintain themselves but eventually, they come off worst. The people revolt against them because 'leading' isn't supposed to mean 'suffering'!
Luckily, things don't get that bad in corporate life. Still, in business life, many leaders are a source of 'suffering', both for others as for themselves. In most cases, solo behavior is the common denominator because solo players prefer to work individually: they want to dictate the law and keep things under control. On their own.
Take-over target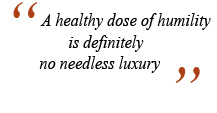 And what about their employees? They often remain silent and stay for the money or because they don't have any alternative, as visibility can be dangerous in this kind of companies. New ideas or suggestions are seldom being appreciated. Everyone keeps quiet and is afraid of losing his/her job.
But what happens when the 'dictator' leaves the company? Right. A power vacuum emerges. I don't need to explain the consequences. Usually, these companies are ideal take-over targets. Just take a look around to find out what you should avoid!
Fortunately, there are also many leaders who are doing well. Great leaders such as Nelson Mandela and Bill Gates have become real role models. Being charismatic leaders, they manage each time again to act as a coach, in an interactive way. They coach their employees, and sometimes even their opponents! They are learning from their own mistakes, giving their people opportunities and continuously investing in training. This way, they are training themselves and their team members as well.
Listening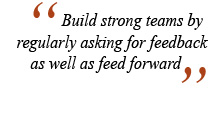 But how can you become an interactive leader? By listening! If you can't listen, you won't learn a lot. Learning and listening go hand in hand. Consequently, a healthy dose of humility is definitely no needless luxury.
Regularly look in the mirror and question yourself. Often, your employees' feedback and suggestions are invaluable. They allow you to adjust your behavior and improve your leadership skills. Leading effectively implies:
Developing a prescient vision.
Converting that vision into a clear strategy with priorities.
Defining very concrete actions per priority, together with your team.
Selecting the right leaders for all these items.
Creating an environment in which the 'action leaders' put together skilled teams able to really put the theory into practice. At this level, the right motivation and the right values are decisive.
What you are doing, is important but how you are doing it, is even much more important! People are no computers or machines you can switch on and off whenever you want. This remains the biggest challenge: 'how' means getting the best out of your people!
This is why tèn company attaches great importance to 'self-coaching': you should build strong teams by regularly asking for feedback as well as feed forward (suggestions for improvement) and by really taking your time for it.
These 'self-directing teams' are the key to success. They often beat their competitors because they can act more quickly and make better decisions. Moreover, they often attract the best people. The right people on the right place. Companies with that team spirit stay successful, even in times of crisis!
Actually, it is quite simple: leading means collaborating interactively; solo playing only leads to suffering. It's up to you!
Have a nice weekend!
Herman