Busy, busy, busy!
People within my network are often angling for an appointment with me. Most of the time, it is urgent and even very urgent. For instance, Anna called me some time ago to ask if we could meet as soon as possible. She needed a
second opinion
about a chaotic reorganization within her company. Urgency seems to be a relative concept; her agenda was chockfull for the next three weeks!
We were forced to have our business lunch on a Saturday. A classic scenario: cost reduction and activities moved towards Asia. Yet, the usual brainstorm session was difficult. Our conversation was constantly being interrupted by all kinds of professional and private phone calls. She apologized for it, but I brought up her overloaded agenda anyway.
Sending and reading e-mails at night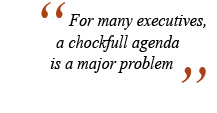 I had already often heard the story she told me. For many executives, a chockfull agenda is a major problem. 'I can't help it. I'm busy, busy, busy … . I plan everything, but I have so much work that I have to deal with unforeseen problems each day. I don't sleep well and I keep worrying all the time. It seems as if my working day never stops.' She told me she sometimes got up in the middle of the night to write things down. Moreover, she sometimes even sent or read e-mails at night!
We planned another business lunch to tackle this problem. In order to prepare our new meeting, I asked Anna to list some items in advance. I often use this kind of lists in order to visualize my coachees' workload because what you see on paper, is often confronting and instructive. How far does your responsibility reach? Within which organization chart do you have to work? What does your agenda of the past few months look like?
Finally, we could start. I made a short analysis of the situation and three weeks later, we met again in the same little restaurant. Four difficulties:
She had lots of meetings, even about topics she wasn't directly involved in.
She was spending most of her time to internal affairs. She paid much less attention to the outside world and to her customers.
She had more than eight direct reports. Delegating thus seemed obvious but in practice, her employees were delegating upward, which of course had an adverse effect.
Much interference. Result? Postponed appointments, delays, improperly prepared meetings, stress … .
Screening
Time for action now. Here's an extended screening of Anna's agenda: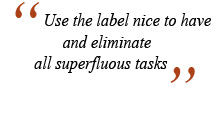 Is the activity really necessary? Use the label nice to have. In the end, eliminate all superfluous tasks unless you have lots of time, of course. In the first place, you should dare to delete things from your agenda.
Can I entirely delegate the activity without any further personal follow-up? Delegate and determine who will take the final responsibility.
Can I delegate the activity with a personal follow-up? Delegate and immediately plan a few follow-up discussions. Don't postpone them. Now, you still have enough time.
Can I relieve the workload? Rely on an assistant. This can be one of your direct reports, but not necessarily. Immediately compare your agendas. Here again, postponing is not a good idea.
Do I really have to deal with the activity entirely on my own? This kind of activities should be exceptional! By definition, these activities are very important and deserve your full attention. Plan them very carefully and foresee enough preparation time.
'And what about unplanned interventions?' Here, I advised Anna to write down a set of personal criteria. Is it a phone call or a request by your partner or children? Is it a problem with an important customer? Here, you should try to do some tunnel thinking and immediately decide if you want to spend some time to a particular source of interference.
Coffee corner
Anna's new approach is definitely working. Result: a better balance between her work and leisure time, less phone calls and less overtime work. Her employees are also satisfied: they have more responsibility and feel appreciated. She discusses her way of working with them, asks their
feedback
and is not afraid to ask for help.
Now, Anna also does some '
Espresso coaching
'. Each day, she spends at least half an hour to some of her colleagues who 'need to speak to her for five minutes'. She walks around at the office to talk to her people. Informally and voluntarily. The coffee corner is an excellent place to keep a finger on the pulse … .
And what about the lunch? During our latest lunch, we haven't been disturbed unless by that one phone call Anna's daughter made to ask if mummy could bring her to the volleyball training that evening … You can already guess her answer: yes, mummy had time for it!
Have a nice weekend!
Herman