Do you interrupt other people?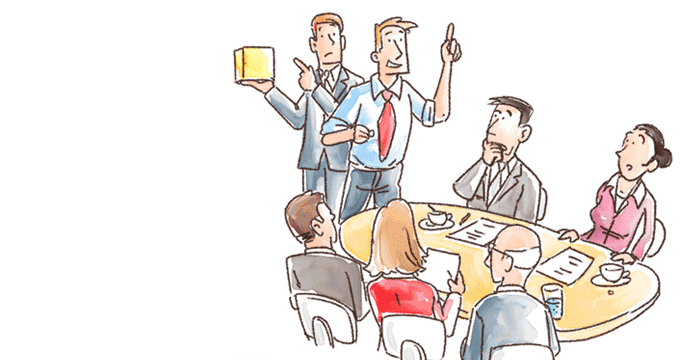 Do you know this frustrating feeling? You enthusiastically start telling a story and at the first possible opportunity, one of your conversation partners promptly interrupts you. Although you haven't finished your story yet, everybody starts giving his/her own opinion. Or worse: the wisecracker who interrupted you, starts telling his/her own story.
Of course this sounds familiar. Sooner or later, we all interrupt other people: both at home and at work. However, we shouldn't pass over this annoying habit too lightly because it has a counter-productive effect.
Nothing but frustration
Probably, you will tolerate this macho behavior from your boss although it is definitely not an example of good leadership. But one thing is for sure: you will remain frustrated, especially if this is the daily way of communication at your office.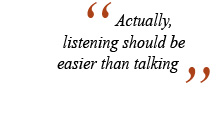 Unfortunately, this happens in lots of companies. A quarterly meeting. Due to a lack of time, the boss has decided to shorten the meeting. Every manager gets exactly three minutes to make his/her point. The team is well prepared, but the boss him/herself is late. In addition, (s)he immediately starts talking about what (s)he learned about the competitors although it is not an agenda item at all.
Time is running and when the first line manager is eventually allowed to speak, the boss quickly interrupts him/her to add something to his/her story about what the competitors are doing. At that moment, this is completely irrelevant. And it keeps going on like that… As a consequence, the other members are losing their patience. Here and there, you can hear a suppressed sigh. Nothing but frustration!
Believe me: it happens every day. And what about the boss? Usually, (s)he doesn't even notice that it is his/her own fault. For your information: the company I am talking about, has recently been confronted with two regretted losses. Why am I not surprised?
Attention-catching
You should just quit this annoying habit or at least try to pay attention to it! You might be surprised. Be aware of your own behavior and opt for active listening, especially within multifunctional and multicultural teams which are the order of the day in corporate life.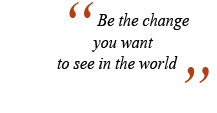 The willingness to listen and good communication are absolute conditions for success. You won't achieve great results on your own. Actually, listening should be easier than talking, but it is not because everyone wants to set his/her stamp on the others. You should try 'patience and discipline' instead of all that attention-catching. And don't hesitate to add a healthy dose of respect.
What about you? Do you often interrupt your conversation partners? Perhaps, you should informally ask this to your family and colleagues. It doesn't have to be an all-round evaluation. This way, you will know what you can expect. Ask them to immediately give you feedback when you will have interrupted them too soon once again. It is a self-correction technique.
As a conclusion, I would like to use the following cliché: 'Be the change you want to see in the world!'
Herman