Serve a baby cappuccino in times of crisis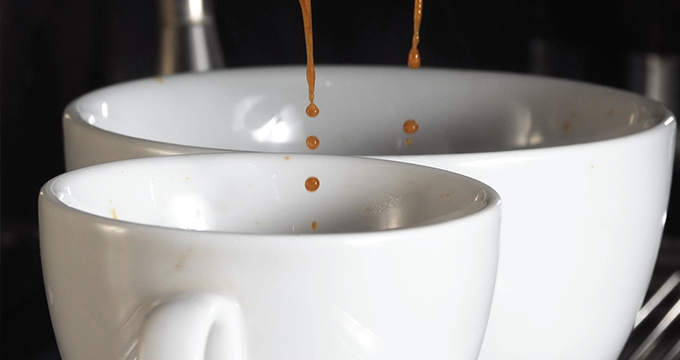 A baby cappuccino and a bel sorriso, served with a smile. And I go home satisfied. Because customers just like being spoiled. Soft hassocks are nice. A beautiful table. I love it. However, the personalized approach makes the difference. This is about how to work at customer relations in difficult times.
Candlelight
Italy is suffering from the crisis, that much is clear! This is also the case in Tuoro, the small village at Lake Trasimeno, where I love to spend my holidays. The local tradespeople are looking sadly on it. The outdoor pubs aren't what they used to be and the cutlery in the restaurants remains untouched.
A small breakfast in the sun with a beautiful view? No problem, if you're an early bird at least. A candlelight dinner? You need to make your reservation in time! But not this year! I was very surprised. The times have really changed… And what does the marketer in me prefer to do in such a situation? Right: observing and learning!
Apparently, some bars and trattoria are deeply suffering from the crisis. Two bars on the small village square with the beautiful fountain. Both serve great cappuccinos – Italians have taken out a patent on it. Yet, there is a difference: one bar has twice as many customers as the other. Not for one morning. Not for two. Almost every day, I walk along the fountain and I can see a clear difference. More customers, more atmosphere.
Atmosphere
Me too, I prefer to sit at the side where there is some atmosphere. Customers are immediately welcomed with a smile. They immediately feel at home over there. A warm welcome, no matter which waiter is working. They have a little chat with you, remember your name and even know what your favorite drink is.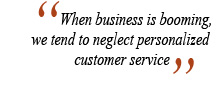 In other words: they personalize their approach as much as possible! And that makes a difference. My two-year-old grandson immediately received a little cup of warm frothed milk. It is simply called a 'baby cappuccino'. Without extra costs. A detail? Yes, but details make the difference between 'just good' and 'excellent'. In times of crisis, it is a matter of survival.
These small things allow customers to really feel at home. 'Customer indulgence' isn't an empty word here. For them, the customer comes first. As one of their 'values', it is ingrained in their way of working. A warm welcome, good service and friendly staff functioning as a close team, but not in an artificial way. No, just smoothly and very naturally.
Customer service
What I'm trying to say, is that good customer service is too easily being neglected in good times since the demand is then so high that a thorough approach doesn't generate additional profit. In times of boom, the effect of good service can't really be noticed. There are enough customers. The faster you serve them, the higher your revenue will be.
Things can change, however. And once it starts going downhill, it's all hands on deck. Then, everything changes. Every customer becomes an important customer who deserves to be treated with due care. And that's exactly the problem, because that natural service isn't something you learn overnight. It takes years of experience, often even from generation to generation.
Those who keep investing in good customer service, reap the benefits of it in more difficult times!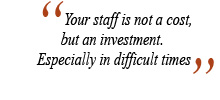 How should you tackle this? Make sure you have a good product and sell it at an acceptable price. That's the basis, but lasting success requires additional efforts, namely: attracting new customers and serving them properly. Still, that isn't enough either. You also need loyalty: your staff is the key for lasting success!
People
We call it 'delivering through people'. Your staff comes first. Without it, good customer relations are impossible. It is your main asset. Therefore, I advise you not to see your staff as a cost, but as an investment! Especially in difficult times.
To put it in other words: you might have a great strategy that is perfectly executed, but if you don't have the right company culture, you won't achieve lasting results. Your staff needs to behave properly. Every day again.
Will you be travelling around this weekend? Take the time to observe a few shops, restaurants, businesses… Describe your feeling and compare it with what's happening in your own business or company. Do you have the right culture? If so, do your people spread it?
Have a nice weekend and good luck!
Herman