Four rules for successful teamwork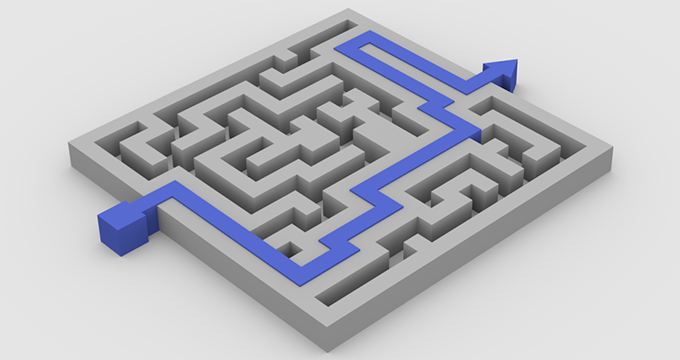 No, it wasn't good. Before I even hung up my jacket, Steve had already started his monologue. He was bitterly complaining. As the COO of a mid-size company, he considered that he couldn't count on his employees. "Abominable", he said scornfully.
Steve himself had moved up from regional to national level, which appeared to be a challenging career step. He could no longer fill the gaps by himself because if you're not on site every day, you can't step in just like that anymore. To put it briefly: although Steve still had long working days, he didn't feel that he had the situation under control.
A motley crew
We had a long conversation and after a while, it became clear. A motley crew. To put it bluntly: most of Steve's people were stuck in a classic pattern of daily routine.
Important innovations required for growth didn't take place, the marketing department didn't offer adequate support, the planning and production departments were overtaken by events… And even at the chain's end it went wrong: the prospection for new customers was a nightmare and there were lots of complaints by existing customers. To make matters worse, those complaints were poorly dealt with.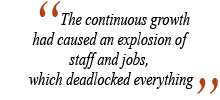 I already knew much, but this wasn't enough. So, I went for an informative walk within the company. I had received carte blanche and could openly talk to everyone. I followed the planning as well as some employees for a day and visited the main departments: production, research, marketing and IT.
Conclusion? The usual problems: poor collaboration due to an unclear task distribution and silo's between the different departments. At individual level, I also noticed inadequately delimited targets. Actually, this company had become the victim of its own success. The continuous growth had caused an explosion of staff and jobs, which deadlocked everything.
Scorecard
Consequently, there was a lot to be done. The management was asked to clearly formulate its strategy and objectives. Moreover, a cross-functional – meaning: across the different departments' boundaries - team put on paper a series of priorities, together with the associated actions. In order to make everything comprehensive, these tasks were carried out by means of a clear task distribution, with measuring points and a
scorecard
at each level.
The main goal was to reduce to the essence the many meetings within each department. We did it by means of some working meetings with a minimum of participants, a strictly limited agenda and a clear decision-making process. An example? Upward delegation wasn't allowed anymore and in the plans, we selected the really necessary meetings. Less people, less agenda items and – consequently - less wasted time!
After six months, the time had come for a retrospective. I had lunch with Steve; with the new Steve since he seemed calmer than before. He enthusiastically told me that he had even been able to take a two-week holiday and was very surprised that his people had hardly called him. He needed to get used to this new situation for a while, but the figures were looking good when he came back.
Four basic rules
It is my favorite topic, but I keep insisting on it: work cross-functionally! Four basic rules:
Choose one leader for each task. Don't say for instance: "The marketing department will follow up." Appoint one person. Delegate, give this person power of decision and make sure (s)he can put together a cross-functional team.
A cross-functional team shouldn't consist of more than three or four persons. Small teams can quickly meet and take action. In this context, trust is an essential requirement.
Determine one concrete KPI per action or project. With a well-organized scorecard.
Each planned action or project should have a deadline, also associated with a scorecard.
Keep it as simple as possible: clear objectives, good leaders and well-defined measuring points. By avoiding complexity, you will have more time to coach your people. You'll be more available as a coach and that will make a difference!
Have a nice weekend,
Herman