Crystal gazers in corporate life do exist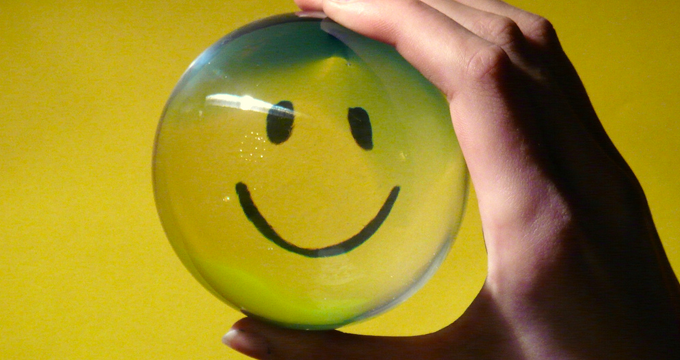 Crystal gazers are just talking nonsense. They don't exist; not even in corporate life. However, nobody likes unpleasant surprises. Nobody likes to be overtaken by events. Having to make a sharp turn at the last moment is never pleasant.
Imagine the following situation: things aren't ready in time. During some meetings, it appears that valuable time is being lost because you need to clear things out that went wrong in the past. And then it comes: "Yes, but we don't have a crystal ball, do we? Nobody could have predicted this."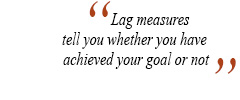 Mind you! By using the right measuring tools, you can already take a considerable step in the right direction because they allow you to adjust in time where necessary and at the right moment – read: adjusting before it's too late! You can compare this with a modern car warning you when you're running out of fuel and your engine needs to be serviced.
Actually, the same goes for business activities. Yet, in practice, I too often see managers restricting themselves to the evaluation of the monthly results. That's just like looking in the rearview mirror when you're driving. Monthly results only show what's behind you and that's only half of the truth…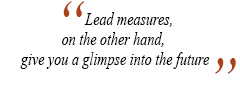 A tip? Use 'scorecards' with sharp 'key performance indicators' (KPI's). Here, I often make the distinction between 'lag measures' and 'lead measures', just like Sean Covey in his book '
The 4 Disciplines of Execution
'. In other words: the KPI's ahead of you versus the KPI's that tell you about the past.
Lag measures
tell you whether you have achieved your goal or not. For instance: monthly results, market penetration, market share, absenteeism, production results… This kind of information allows you to know where you are. But if you are overtaken by events and firefighting, the only thing left to do, is correcting, at least if you still have the chance to do it…
Lead measures
, on the other hand, give you a glimpse into the future. They measure elements leading to a particular goal. Consequently, you can intervene in time where necessary. Some examples:
Before launching an innovation, you can measure the critical steps in the 'innovation pipeline'. This allows you to perfectly estimate whether everything will be ready in time or not.
Prevent absenteeism by allowing your people to voluntary get a flu vaccine. Measure the response.
Measure whether the recruitment of your salespeople and the corresponding trainings take place according to plan. If so, the expected extension of your clientele will have more chances to succeed.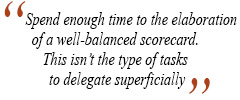 Briefly: it's about measuring the actions that allow you to achieve your goal and are a reliable indicator for the future. Spend enough time to the elaboration of a well-balanced scorecard. This isn't the type of tasks to delegate superficially.
Scorecards with lead measures allow you to pro-actively lead your business in time. This way, you'll get more out of your well-deserved summer holidays!
Have a nice weekend,
Herman