Make an excellent start in this new year by increasing your team efficiency!
I'm busy, so I'm important. How naive can you be if you say this? Macho managers – believe me: there are many of them – think they need to make themselves felt by behaving as if everything revolves around them, as if everything will go wrong if they loosen the reins.
Macho managers, don't they need some vacation? Apparently not, because they are always busy and their agendas are always overloaded since that's the way it goes when you occupy an important position or when you want to make it in the business world. Mind you: this is complete nonsense!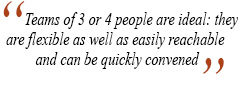 It isn't a surprise that, during the past year, I've met many people who reluctantly admit that they actually can't continue like that. However, these conversations mostly took place behind closed doors; apparently, it is still very difficult to just accept that we (even managers) are all flesh-and-blood human beings. In fact, these 'business world victims' must dare to admit that they also need to find a sound balance – an equilibrium between their professional and private life. Marshall Goldsmith has a beautiful word for this: 'Mojo!'
But how can you achieve this? Let us start with the link between 'team efficiency' and 'meetings'.
Efficient meetings in 7 steps
Have you defined your strategic priorities? Have you converted them into clearly determined strategic projects? In other words: which meetings are really necessary?

Be careful! Watch the agenda! If you convert your strategy into actions in a sound way, you won't need to put many other projects on the agenda. More is not necessarily better. Do your own acid test before proceeding.


Map all meetings and determine which ones are really necessary, in other words: meetings during which decisions about strategic projects are made. Dare to drop meetings not satisfying this criterion. It's about the 'decisions' you can make; not about the number of items you can 'deal with'.


Delegate. This means that, per project, you have appointed one leader – the person responsible for the project – who has full responsibility and can, is entitled to and must make decisions together with his/her team.


Organize a meeting with the persons responsible for the projects and discuss the different teams. Is each team sufficiently 'cross-functional'? Is it possible to make decisions smoothly? Aren't the teams too large?

Tip: teams of 3 or 4 people are ideal: they are flexible as well as easily reachable and can be quickly convened. The essence is to organize 'short' meetings – also by means of a teleconference, for instance – and not to postpone decisions. During each meeting, you must deliberately search for added value!


Appoint one 'sponsor' (a member of the executive committee) for each strategic project so that the project leaders' questions can be answered quickly (preferably within 24 hours).

Tip: such a sponsor allows you to gain lots of time since the project leaders don't need to consult the entire management or to wait until the next board meeting. If every sponsor can as well quickly consult the CEO or his/her colleagues, a culture of real time with a quick flow and quick decisions will arise.


A meeting's agenda is not a wishlist. Agendas merely reflect what you have determined in the strategic plan; no more than that. After all, an agenda isn't the sum of everything the members can think of.


A meeting is not an informal chat. You can't invite someone just like that. It's about who's really needed and who's not. This can be very delicate, you know, because some managers will feel passed over. At this level, good communication is crucial: make clear that you don't want to burden people with superfluous meetings.
To be continued...
I wish you all the best for 2015!
Herman