Is your company entrepreneurial enough?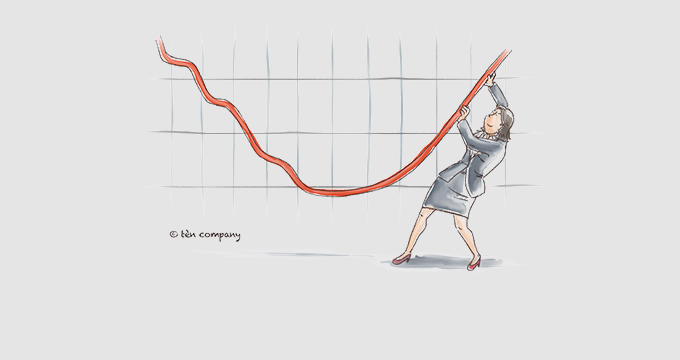 I read lots of company annual reports and publications. What always strikes me is how easily words such as innovative, pioneering and groundbreaking are being used. Of course, this is nice, especially in a rapidly evolving world. Discoveries such as The Internet, nanotechnology or a violin made by means of a 3D-printer are just a few of the biggest innovations of our time.
However, when you look at the revenue and growth trends, in most cases, you immediately get a totally different picture.
Internal blindness
What do we see? Usually, the established players in corporate life go for 'more of the same'. Due to internal blindness, they are completely missing new evolutions. And when they finally take action, it is often too late and in a too limited way, to achieve the desired results. Meanwhile, they are surpassed by newcomers. Professor Clayton Christensen of Harvard Business School, who has been investigating this phenomenon, launched the term 'disruption'.

A classic example is IBM, the technology giant who completely missed the development of the personal computer. Or a more recent one: Blockbuster ignored new technologies and was outdone by Netflix as a consequence. Usually, newcomers such as Tesla, Airbnb and Uber break through while the older players miss the boat time and again.
It's time to wake up! That's also what Alain Dehaze, Adecco's new Belgian CEO, thinks. According to him, the digital revolution is a big challenge for corporate life. Using 'big data', for instance, we can find out so much about a company that sectors such as the hotel industry and the temporary employment sector are going to be turned upside down. 'Technology will drastically change the rules of the game'
according to Dehaze
(article written in Dutch).

Real entrepreneurs
What do we need? Entrepreneurs! Real entrepreneurs act proactively. And no, that's not the same as acquiring start-ups, hiring freelance consultants or entering into a joint venture. Of course, there's nothing wrong with this approach but what we really need, is 'real entrepreneurial employees' inside our own companies - at all levels and in all disciplines. That's what it's all about.
A few tips:
Recruitment. Don't screen candidates' only for skills. Also look at their competencies and character. In other words: are you dealing with an entrepreneurial person?
Briefing. Cleary state that thinking 'outside the box' is the rule, not the exception.
Experiment. Allow your employees to experiment, to make mistakes and to develop themselves by learning.
Budget. Make sure you give them an annual budget in order to stimulate and finance experiments.
Customers. Make sure that as many employees as possible from different disciplines are regularly in touch with the market, so they can get inspired and share their findings within cross-functional panels and during brainstorming sessions. This allows you to find better and new solutions for customers.
New developments. Look outside. Make sure that the whole company systematically stays informed about the new developments in the market. Closely follow new technological developments. Encourage all employees to "look outward".
In summary, stay open to new things and don't rely too heavily on what you see in your rear-view mirrors. The message is: 'Foresighting' instead of navel-gazing!
Herman van Herterijck