Niemand is perfect maar een sterk team kan wel in de buurt komen!
Een sterke leider, wat is dat eigenlijk? Tijdens lezingen en coachingsessies krijg ik die vraag heel vaak. Alsof er een soort blauwdruk bestaat voor leiderschap. Alsof je een lijstje kan maken met eigenschappen, zwart op wit en mooi afgelijnd.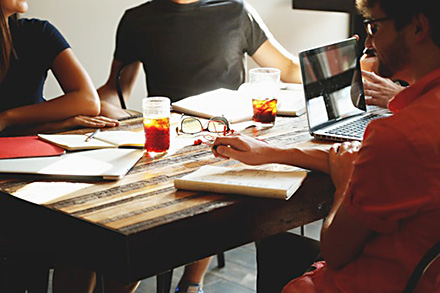 Moet je als leider heel creatief zijn, of eerder gericht op organisatie? Of moet een leider vooral gericht zijn op actie? Mijn antwoord is altijd hetzelfde: elke goede leider zal zeker een aantal sterke competenties hebben, maar één ding primeert – zelfkennis! Wie zijn eigen sterktes en zwaktes niet kent, zal vroeg of laat falen.
Zelfkennis is de sleutel voor blijvend succes:
je kent je sterke punten, daar kan je op voortbouwen;
je kent je aandachtspunten, daar kan je aan werken.
Op basis van die oefening kan je je omringen met de juiste mensen:
Een leider die heel creatief is maar niet zo sterk op het vlak van organisatie, zal op zoek moeten gaan naar mensen die dat gebrek aan organisatorisch talent kunnen compenseren.
Een leider die eerder 'actiegedreven' is, omringt zich best met mensen die hem kunnen dwingen tot reflectie en die weten hoe je een gezond beslissingsproces moet aansturen.
Een leider die uitblinkt in het uitwerken en verkondigen van een baanbrekende visie maar onvoldoende 'people skills' heeft om iedereen te motiveren en mee te krijgen, geeft zijn teamleden best voldoende ruimte om hem daarbij te ondersteunen.
Het team wordt dan meer dan de som van het individueel talent. Naast zelfkennis is het uitkiezen van teamleden met complementerende competenties dus heel belangrijk.
Vermijd teamleden met dezelfde competenties en het hetzelfde karakter. Een bekwaam leider omringt zich met mensen die eigenlijk zijn tegenpool zijn en die zijn aandachtspunten op een natuurlijke manier compenseren.
Samengevat: een leider verzamelt de vier belangrijkste leiderschapsstijlen in zijn team:
Visionair
Organisator
Doener
Opvoeder
Let op! Excellentie in één stijl is tegelijk een 'kracht' en een 'risico'.
| | | |
| --- | --- | --- |
|   | Kracht | Risico |
| Visionair | Creativiteit | Chaos |
| Organisator | Orkestratie | Bureaucratie |
| Doener | Actie | Solist |
| Opvoeder | Teamwerk | Besluiteloosheid |
Hoe ga je aan de slag?
Breng je eigen leiderschapsstijlen goed in kaart.
Achterhaal op welk moment je een bepaalde stijl het best gebruikt, en in welke mate.
Zorg ervoor dat alle stijlen en competenties evenwichtig vertegenwoordigd zijn binnen je team.
Een oneliner als uitsmijter: 'nobody is perfect, but a team can be'.
Prettig weekend,
Herman
Meer informatie over leiderschapsstijlen: zie het VODO-model in het boek "master your own destiny":
www.tencompany.eu